University lecturer in Da Nang well-known for brilliant inventions for community
February 05, 2022, 16:00 [GMT+7]
Dr. Le Thi Xuan Thuy, a lecturer at the Faculty of Environment of the Da Nang University of Science and Technology, the University of Da Nang, posses four patents in environment-related technologies. Her inventions are highly practicable and beneficial to the community.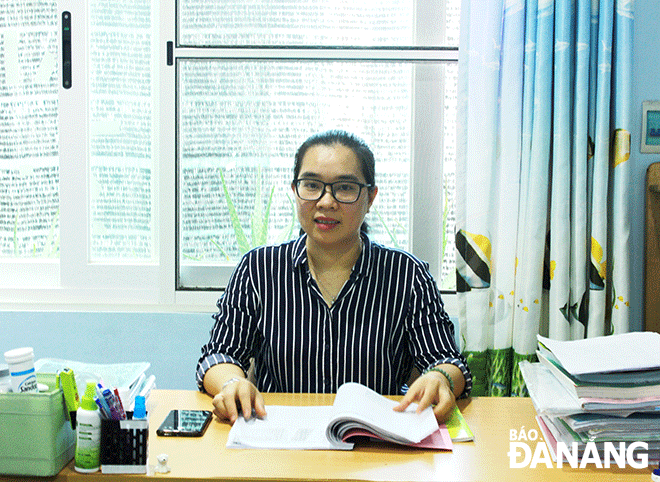 Dr. Le Thi Xuan Thuy
In 2012, the talented woman successfully defended her doctoral thesis at the Faculty of Life and Environmental Sciences at Japan's Tokushima University with a scientific work on environmentally-friendly methods of treating heavy metal ions-contaminated wastewater.
After that, she decided to return to Da Nang and worked as a lecturer at the Faculty of Environment of the Da Nang University of Science and Technology.
Realising that wastewater in Viet Nam contains a lot of heavy metal ions such as nickel, copper, zinc, lead and iron, Thuy decided to conduct research on methods of treating wastewater contaminated with heavy metal ions by gamma-poly glutamic acid-coated magnetic materials.
Thuy came up with the idea of the research when she was studying in Japan. She added that contaminated water from the nuclear disaster in Fukushima in 2011 contained high levels of radioactive cesium (Cs) and strontium (Sr), and this fact inspired her to conduct research into the use of the Gama-PGM to retrieve lead and treat the two ions.
Her research showed that the magnetic particles have very good ability to adsorb heavy metal ions, whilst the use of Gama-PGM as an adsorbent in the magnetic filter model brings high efficiency, meeting the technical requirements and current regulations.
So her project on 'The treatment of heavy metal ions-contaminated wastewater with a magnetic material' was born from that. The project has been successfully applied at a plating factory in Da Nang.
Gama-PGM is a new highly expensive material. So, how to create cheaper materials which boast similar features to Gama-PGM has always occupied her mind.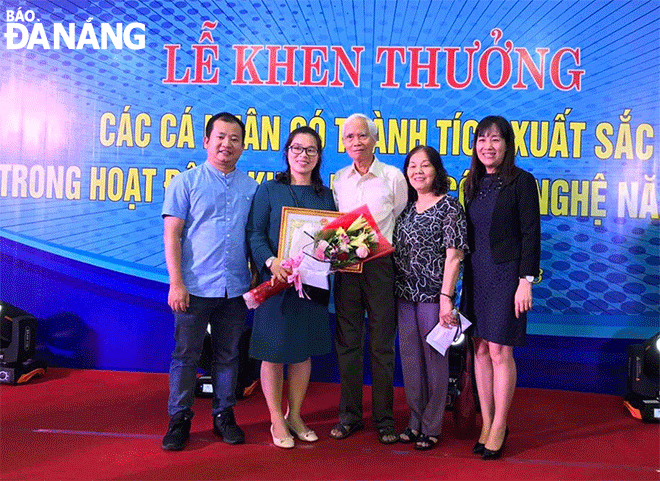 Le Thi Xuan Thuy (2nd from left) was seen at a municipal-level ceremony which honoured local individuals having outstanding scientific and technological achievements in 2018.
Another Dr Thuy's scientific research work of great enthusiasm is ' Multi-layer underground water purification equipment'. The equipment is used to treat aluminum-contaminated water. Her creation has been applied widely not only in remote and mountainous areas in some localities nationwide, but also in households using tap water.
In the past, there were many methods of treating aluminum-contaminated water by using long plastic pipes featuring the mixture of such materials as sand, grit, and cotton. However, these methods have been less effective-than-expected.
Meanwhile, Thuy-created equipment also uses the above-mentioned materials but it is designed in the form of a cylinder consisting of separate compartments. This makes it easy for user to change, wash and reuse the filter materials, thereby significantly reducing manufacturing and installation costs.
Two aforementioned Thuy's scientific research works were granted trademark protection certificates by the National Office of Intellectual Property of Viet Nam in 2018. This helped Thuy become the only female doctor to receive excellent achievements in science and technology activities in the city during the year.
Moreover, the 41-year-old university lecturer and her colleagues have together conducted research on Multistage worm rearing equipment for agricultural waste treatment. Worm farming equipment has a flexible design, easy to install and replace, suitable for both farms and households.
The model ensures the growth of worms and treats agricultural waste to create organic fertilizers and meat worms. The device has a simple structure and is convenient for maintenance thanks to easy replacement of parts.
At the same time, it allows to increase the efficiency of space use corresponding to the increase in the number of floors, easy to manage and expandable through monitoring, remote intervention via network connection. This solution was granted a utility solution registration certificate by the National Office of Intellectual Property in August 2020.
In May 2021, Thuy was granted with the utility solution certificate for the 'Joss paper burning bin' scientific research.
She came up with the idea after a while observing that most of votive paper burning boxes on the market are mainly made from corrugated iron with the advantage of being compact but easy to cause burns and without any measures to handle smoke and dust, causing environmental pollution.
With Thuy's invention, votive papers can be burnt safely and conveniently, whilst smoke and dust can be resolved before being released into the environment. Also, such bins allow people to burn large-sized votive papers, and avoid fires due to flying ash and importantly, thoroughly handling dust.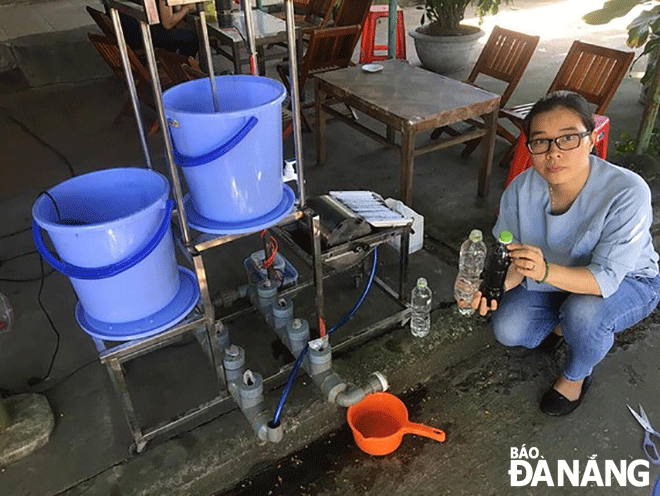 Dr. Thuy possess four research works granted trademark protection certificates by the National Office of Intellectual Property
Sharing about these above-mentioned achievements, Thuy humbly said all of her ideas and inventions were rooted from her concern about the environment. Her inventions have been applied widely in urban areas in some localities nationwide and many rural areas in the neighbouring province of Quang Nam.
Therefore, the female scientist and her associates established the Sustech Green Environment Co., Ltd. in 2016. Three years later, the company became the 7th science and technology enterprise in Da Nang.
In June 2021, the company received VND 76 million worth of financial aid from the Da Nang Department of Science and Technology to commercialise its home tank water filtration device. Up to now, the home tank water filter device has been used by many households.
Currently, Thuy and her teammates are continuing to conduct research on other highly practicable inventions and put them into practice for real-life use in a hope of benefiting people and the community.
Reporting by TRAN MAI QUE- Translating by M.DUNG
.