Da Nang sees enhancement of non-public higher education quality
May 17, 2022, 13:06 [GMT+7]
The establishment of non-public universities in Da Nang has made outstanding contributions to the city's educational development, realising the policy of the Party and the State on appealing for more private investment into the education section. Over recent years, non-public tertiary establishments have constantly enhanced training quality to keep up with the global trends.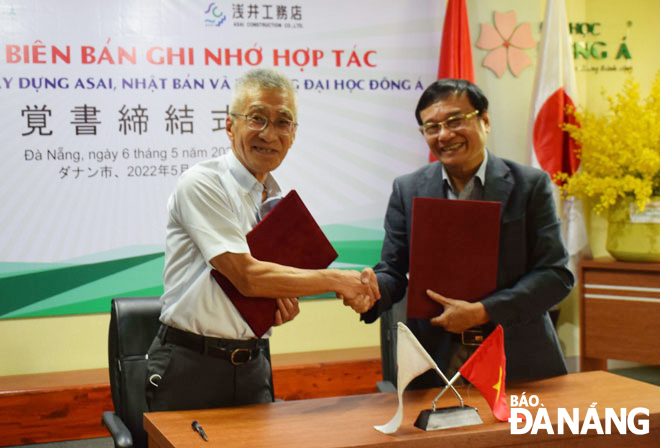 Mr. Asai Toshikazu (left) – a representative of Asai Construction Co., Ltd. based in Japan signs a memorandum of understanding on cooperation with the Dong A University. Photo: D.H.L Infrastructure rents in Da Nang industrial parks released
Opening many new majors necessary for society
The private Dong A University currently has 35 undergraduate majors with 15 faculties. Of this, the training majors in the fields of tourism, hotel, business administration, information technology, automobile, electricity, electronics, automation are considered to be strengths of this university.
Luong Minh Sam, Chairman of the Council of Dong A University said: "To meet the practical enrollment needs this year, the university will open four new majors, namely logistics and supply chain management, e-commerce, electronics, marketing and communications, artificial intelligence and data science. These industries were set up in association with the training transformation after the COVID-19 pandemic. At the same time, the school will continue to improve the quality of training programmes, facilities, and teaching staff. At the same time, the university will pay attention to ensuring the quality of graduates and their job seeking ability".
For the rest of 2022, this private university will enhance linkages with major universities around the world to launch international bachelor programmes, thereby helping students access quality international education and get well-paid jobs after graduation.
Typically, Dong A has partnered with Angelo State University in the US to offer bachelor's degree in business administration, thereby giving students the opportunity to study in the US at a low cost and prepare a solid English foundation and get US visas at a high approval rate.
Also, the university has associated with Liverpool John Moores University based in the UK to offer bachelor training in international business during which students can access business planning, financial management and risk management skills to achieve their potential business growth goals.
In particular, the joint programme with the Keimyung University in the Republic of Korea to train bachelor's degrees in tourism and travel service management, hotel management, and Korean language helps students practice and work at such renowned South Korean enterprises as Korean Air, Asiana Airlines, Jeju Air, Incheon Airport and Daegu Tourism Association.
Meanwhile, in 2022, the Duy Tan University offers training in 48 undergraduate majors, including "newcomers" such as event management, data science, and digital marketing.
The school is planned to recruit 6,200 tertiary students by the method of considering the results of the national high school graduation exams, academic records, based on the results of the capacity assessments by the Viet Nam national universities in Ha Noi and Ho Chi Minh City, along with direct admissions according to the criteria set by the Ministry of Education and Training.
Vo Thanh Hai, Permanent Vice Rector of the Duy Tan University, said that, in order to attract students, the school always focuses on improving the quality of training programmes through cooperation with universities around the world on tandem with sending officials and lecturers abroad for their better qualifications.
Till date, this university has had 4 training programmes that meet the globally-valid accreditation standards of the ABET, incorporated as the Accreditation Board for Engineering and Technology, Inc., a non-governmental organization that accredits post-secondary education programs in applied and natural science, computing, engineering and engineering technology.
In addition, Duy Tan has invested in facilities and equipment, and modernised many majors, especially medicine and electronics.
Enhancing students' practical skills
Apart from training theoretical knowledge, non-public schools also pay attention to assisting their students to enhance their practical skills so that, upon graduation, they can smoothly start working at enterprises.
Over recent years, the Duy Tan University has facilitated its undergraduates to take field trips and internships at many businesses and seek job opportunities there after graduation.
The strength of the school is still information technology training, the rate of practical training and internship is very high. The school will, in the time ahead, continue to conduct exchanges of students with other educational establishments in the ASEAN region and the Republic of Korea for theoretical learning, practice and exchange in academic matters.
In a similar vein, the Dong A University has cooperated with about 500 domestic and foreign enterprises, including the fields of logistics, information technology, and e-commerce.
The school has established a representative office in Ho Chi Minh City to assist its graduates in job hunting after graduation if they want to work in this southern metropolis.
The school has entered into a cooperation agreement with Vinpearl under which 500 graduates whose major is tourism will be recruited by this company to work in Phu Quoc.
In addition, the school has signed a cooperation agreement with Japanese companies to send 50 students to Japan for work in the automotive industry in June, and 150 others for the automobile, tourism, food industries in Japan with well-paid jobs by the end of this year.
Mr. Luong Minh Sam said: "During the admissions process, the school always organises career guidance so that students can choose the right major suitable for their capacities and enhance their proficiency of foreign languages. Final-year students will be able to do an internship abroad for one year in such countries as Japan, Taiwan, Singapore and Germany. Such academic trips give them the chance to learn more foreign languages and experience working in foreign factories, from there practice high professionalism, improve knowledge and accumulate practical experience. Students who hold Japanese certificates at N4 level, or English at 500 TOEIC points, if they wish the school will guarantee them jobs abroad".
In May, Dong A signed a memorandum of understanding on cooperation with Japan-based Asai Construction Co., Ltd., especially cooperation in Japanese language training and the recruitment of construction students to work in Nagoya.
Mr. Asai Toshikazu, Chairman of Asai Construction Co., Ltd. said that the company is looking for highly- skilled workforce, especially college, university graduates majoring in architecture, construction to work long-term for the company.
According to Mr. Asai Toshikazu, the Japanese government highly encourages young foreign employees to contribute to the country's socio-economic development. Localities Japan-wide have also released policies to attract young talents. After the interview, Vietnamese engineers will learn Japanese for 6 months in preparation for working in Japan.
This Japanese businessman said that the past time, the Dong A University has entered into bilateral exchanges and cooperation with many large Japanese organisations and enterprises. In the coming time, Asai will promote cooperative ties between small and medium-sized enterprises and the Da Nang university.
The school will focus on training construction majors and foreign languages for their students to meet the requirements of Japanese businesses, and at the same time integrating skills as per required by the Japanese side into the curriculum.
Recruited construction engineers working for small and medium-sized Japanese companies will have access a good salary policy like their Japanese colleagues and supportive schemes in terms of accommodation, and be promoted at work as well.
Reporting by DOAN HAO LUONG – Translating by A.THU
.