Da Nang universities hike tuition fees
June 09, 2022, 17:49 [GMT+7]
Da Nang-based public universities are expected to increase their tuition fees for the 2022 - 2023 academic year in accordance with the national government's Decree 81/2021/ND-CP dated August 27, 2021 on mechanism for the collection and management of tuition fees for educational institutions under the national education system and policies on tuition fee exemption and reduction, and support for study expenses, service prices in the field of education and training.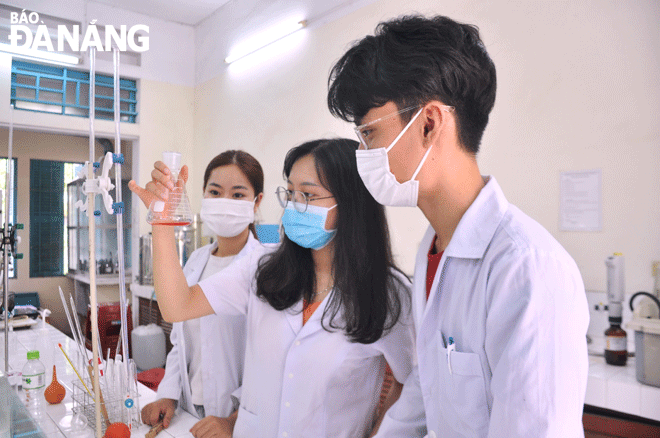 Da Nang-based public universities are expected to increase tuition fees for the 2022 - 2023 enrollment course according to the collection and tuition management mechanism of the national education system. Photo: NGOC HA
According to the Ministry of Education and Training, the tuition ceiling for university-level mass training programmes at public educational institutions that have not yet been able to cover their own recurrent and investment expenditures (not yet autonomous) is applied according to training disciplines and majors.
Accordingly, the annual tuition fee set for science education and teacher training is VND12.5 million, an increase of VND2.7 million; the art sector with VND12 million, up by VND 0.3 million; business, management and legal sectors with VND12.5 million, up VND2.7 million; life sciences and natural sciences with VND13.5 million, up by VND0.8 million; math and statistics, computer and information technology, technical technology with VND14.5 million, up VND2.8 million; medicine sector with VND 24.5 million, up VND10.2 million; other health sectors VND 18.5 million, up VND 4.2 million; the humanities, social and behavioral sciences, journalism and information, and social services VND12 million, up VND2.2 million.
According to the above-mentioned new calculation method, the tuition fee of non-autonomous higher education institutions of the 7 disciplines increases from 3 to VND10.2 million/year.
The tuition fee applied for mass university training programmes in the 2021 - 2022 academic year at the University of Science and Technology, a member school of the University of Da Nang (UD) was set at about VND11.7 million/year; whilst advanced programme with enrollment courses of 2018, 2019, 2020 and 2021 was about VND34 million/year; the 2020 - 2021 course the high-quality PFIEV (Vietnamese-French Training Programme of Excellent Engineers implemented since 1999) at VND19 million/year.
Meanwhile, other member schools of the UD are also highly likely to increase tuition fees, but the increase is not significant.
Assoc. Prof. Dr. Phan Cao Tho, the Rector of University of Technology and Education, a member school of UD, said that the school-set annual tuition fee for the 2021 - 2022 academic year is about VND 11.7 million.
Currently, the school is mapping out a tuition fee rate for the 2022 - 2023 school year, with a hike kept below 10%.
With regard to private educational institutions, Decree 81/2021/ND-CP also stipulates that these establishments are permitted to proactively set tuition fees and prices for other services in the school year in the field of education and training (except for services priced by the State). However, they shall be responsible for transparently publicising tuition fees.
As reported, for the 2021 - 2022 academic year, the tuition fee per semester at the private Duy Tan University for domestic training programmes ranges from 9.44 to VND11.52 million; programme for the gifted at VND11.52 million; advanced and international programme at 12.8 million - VND13.1 million, pharmacist training at VND16.48 million, general medicine, dental - maxillofacial at VND32 million.
Meanwhile, another private school, the Dong A University has set tuition fees by credit module, with each is 550,000 VND, equivalent to VND8.8 million VND/term and is stable for the whole 4-year course.
Up to this point, private higher education institutions have not announced tuition fees for the 2022 - 2023 school year.
However, Master Do Anh Tuan, the Head of Admissions Department at the Dong A University said that the school is not about to increase tuition fees, if any, a rise of about 5 - 7% as compared to 2021.
At the same time, this private tertiary school will maintain the granting of scholarships for eligible students in a bid to relieve their financial burden.
It is said that when entering university autonomy and no longer receiving State funding, all public universities must develop a road map to hike tuition fee and schools must adhere to the national government's regulations. On the other hand, granting scholarships and exemption of tuition fee should be done well to attract and provide opportunities for good students with financial difficulties to pursue higher education.
Reporting by NGOC HA - Translating by A.THU
.