Hermann Enchantix win first prize at Da Nang Open High School Robotics contest
August 15, 2022, 10:19 [GMT+7]
After 2 days of exciting activities, the Da Nang Open High School Robotics contest in 2022 themed 'Sparkling Han River - Shining Talents' came to an end on Sunday afternoon.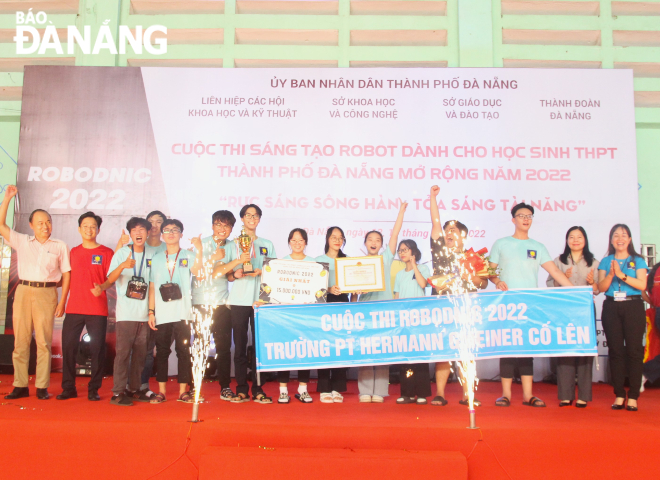 Hermann Enchantix team won the first prize, August 14, 2022. Photo: Ngoc Quoc
The event was jointly organised by the Da Nang Union of Science and Technology Associations, the municipal Youth Union, the departments of Science and Technology, and Education and Training, along with the Da Nang University of Science and Technology.
The contest attracted 16 senior high school teams,13 of which were from Da Nang and the remaining ones hailed from the neighbouring province of Quang Nam.
The Hermann Enchantix team from the Hermann Gmeiner Senior High School excellently won the first prize. Team Oik - Dream from the Ong Ich Khiem Senior High School grabbed the second prize.
The NBK Technical Royal team from the Quang Nam Province-based Nguyen Binh Khiem Senior High School for the Gifted was awarded with the third prize. The Team Y – BOT from Da Nang-based Le Quy Don Senior High School for the Gifted received the consolation prize.
Reporting by NGOC QUOC - Translating by A.THU
.