Boosting bilateral cooperation with Thai province
Published: August 18, 2014
The Vice Chairman of the Da Nang People's Committee, Mr Vo Duy Khuong, recently hosted a reception for a group of representatives from Thailand's Khon Kaen Province, led by its governor Gumtorn Thavornsit.
Vice Chairman Khuong briefed his guests on Da Nang's geographic position as well as its socio-economic development over recent years. He also introduced them to the city's development strategies for the future and the positive results from the bilateral cooperation between the 2 localities over recent years. The host suggested that Khon Kaen Province should recommend more businesses to seek investment opportunities in Da Nang. He also asked the University of Da Nang and the Khon Kaen University to accelerate their cooperation and increase the number of exchanges between their students. Vice Chairman Khuong also stressed the need to create an effective bilateral relationship to fully tap their great advantages and potentials.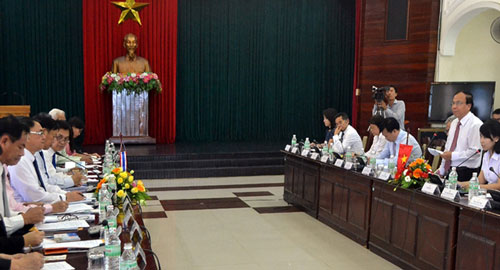 Vice Chairman Khuong addressing the event
In response, Mr Thavornsit thanked the city leader for his warm welcome, and promised that he would submit a draft of a Memorandum of Understanding (MOU) to enhance the bilateral cooperation for consideration by the city leaders. If approved, the MOU will be signed in Khon Kaen Province in December. Moreover, the Thai guest asked Da Nang's authorities to give his province more support and consultancy in urban management. Mr Thavornsit added that he would like Da Nang to help his province expand its consumer markets and distribute its products of greatest potential to other countries across the world. The province's items for export include sugar, wood and cassava flour. Mr Thavornsit also took the opportunity to invite the city's businesses to participate in cuisine festivals and fairs which will be held in Khon Kaen Province in the near future.

.