Viet Nam, Cambodia promote legislative partnership
Published: August 19, 2014
National Assembly (NA) Chairman Nguyen Sinh Hung and his Cambodian counterpart Heng Samrin held talks on August 18 in Hanoi , as part of the latter's visit to Viet Nam ending on August 20.
Chairman Hung expressed his pleasure to welcome the Cambodian NA leader several months after the 35 th anniversary of the victory of the southwestern border defence war and the two countries' joint triumph against the Khmer Rouge regime (January 7, 1979).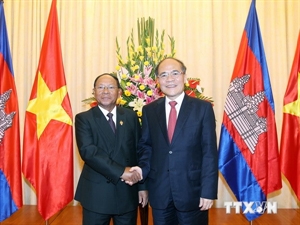 National Assembly Chairman Nguyen Sinh Hung (R) and his Cambodian counterpart Heng Samrin.
He described the visit as an important milestone in bilateral ties between the two NAs, contributing to fostering the Viet Nam-Cambodia friendship and solidarity.
Hailing Cambodia 's political and economic achievements, he said Viet Nam shares difficulties and challenges facing Cambodia , especially those caused by hostile forces to harm the solidarity between the two peoples.
In this context, the two NAs need to stay more united to protect their partnership outcomes as well as mutually support for sustainable development, Chairman Hung said.
The Vietnamese legislature and people will do their utmost to help the Cambodian people in building and maintaining peace, unity, independence and development, he affirmed.
He also took the occasion to invite Heng Samrin to attend the 132nd Assembly of the Inter-Parliamentary Union in Hanoi in 2015.
For his part, Heng Samrin lauded Viet Nam's socio-economic development and expressed his hope that the two countries will continue strengthening cooperation to bring their two-way trade to a more impressive figure than the current 2.5 billion USD.
He briefed his host on his country's socio-economic and political situation, including the success of the recent NA election that helped the country secure the political stability.
He highly valued the support of the Vietnamese NA and said he hopes that the two legislative bodies will continue fostering their cooperation by sharing law-making experience, and increasing delegation exchanges.
During the talks, Hung and his Cambodian counterpart agreed to further boost comprehensive ties between the two NAs and increase solidarity and mutual support in settling common issues in the region and the world.
The two sides pledged to work together for the sustainable development of the ASEAN Inter-Parliamentary Assembly (AIPA).
(Source: VNA)
.