DAFO's efforts in advertising city images to international friends
October 16, 2019, 17:02 [GMT+7]
During the 2014 - 2019 tenure, the Da Nang Union of Friendship Organisations (DAFO) and its member organisations have been focusing on diversifying its people-to-people and cultural exchange activities, thereby having actively advertised the city's beautiful images to international friends.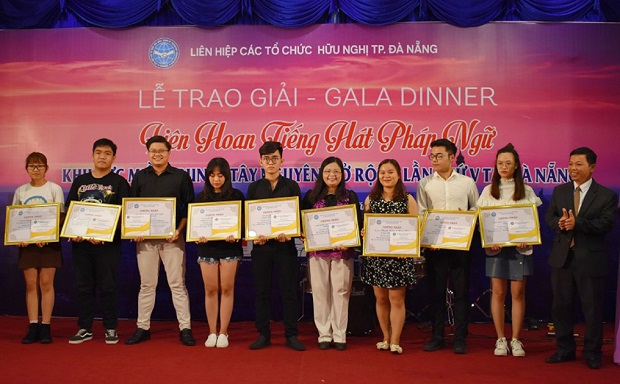 The awards ceremony for the French Singing Competition 2019 for the Central Region and Highlands
During that period, DAFO has warmly received over 150 international delegations in total to visit and work in Da Nang. During its reception for the foreign guests, DAFO has actively asked for help from them to assist the city during its development progress.
On the other hand, DAFO has sent 15 delegations to visit and work in such foreign countries as Thailand, India, Japan, Laos, Cambodia, and China in order to enhance their cooperative ties and promote the images of Da Nang to citizens there.
Numerous cultural and friendship exchange activities, seminars, and conferences have been organized by DAFO with the aim of enhancing the friendship and cooperation between the people of Da Nang and people of other countries.
Over the past 5 years, DAFO in alone has raised over 15.3 billion VND for the implementation of local social welfare programmes. In particular, the programmes have focused on giving bikes and scholarships to poor studious pupils, offering financial aid for families of Agent Orange/dioxin victims, providing means of livelihood to poor single women, assisting Hoa Vang District to upgrade its rural areas, and facilitating international volunteers to visit and help disabled people at centers for social protection.
Every year, DAFO works closely with local agencies and departments to carry out over 75 non-profit projects, worth more than 130 billion VND in total.
In the 2019 - 2024 period, DAFO will ask for help from international friends and organisation to boost the city's socio-economic development, as well as make every effort to promote the important role of local districts, departments and agencies in people-to-people exchanges.
The emphasis will be on enhancing the professional skills of DAFO's employees and increase the efficiency of people-to-people exchange activities.
.