MoveAbility Foundation-funded devices benefit the disabled
Published: December 04, 2018
After 3 years of implementation, a highly practical programme to provide assistive devices for the disabled in Da Nang, Quang Nam, Quang Ngai, Thua Thien-Hue, Quang Tri, and Quang Binh, has gained positive results as it has brought great benefits and joys to people with disabilities.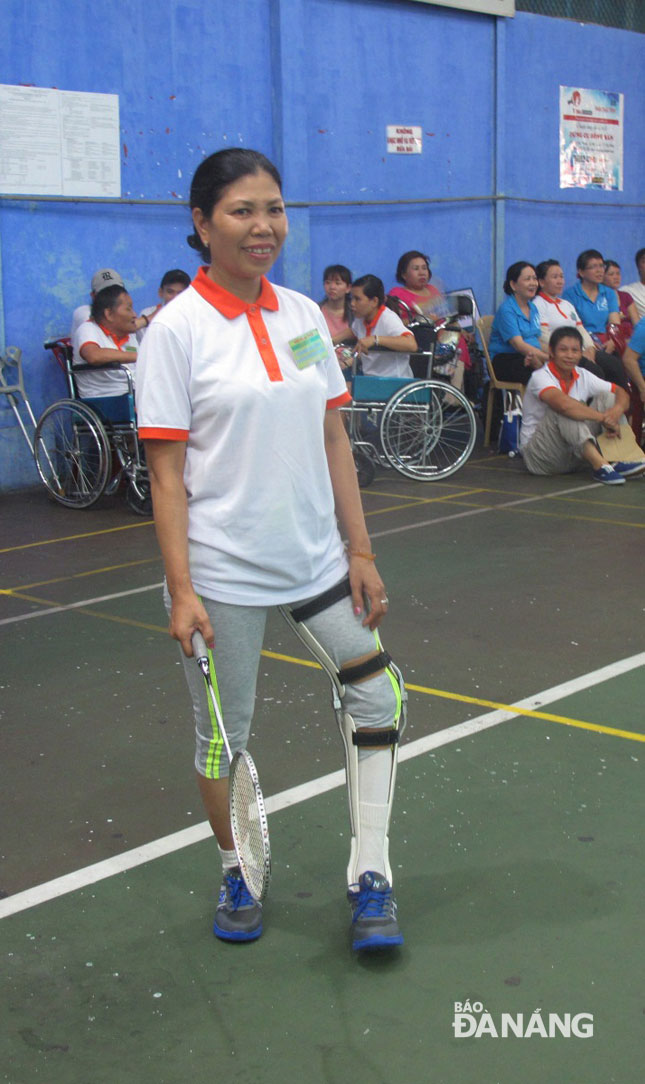 A disabled woman with an orthopaedic device participating in the badminton competition
The programme are being jointly implemented by the Da Nang Association of Disabled People, the International Committee of the Red Cross (ICRC) MoveAbility Foundation, and the municipal Orthopaedics and Rehabilitation Hospital. The intention is to make physical rehabilitation services more available and accessible in Viet Nam.
The assistive devices enable the disabled to reach and sustain the optimum level of independence and functioning, prevent further disabilities, and enhance their social integration. Amongst these devices are splints, prosthetics, canes, crutches, and orthotic tools.
The ICRC MoveAbility Foundation strengthens national capacity in less-resourced countries to remove barriers faced by persons with physical disabilities, by fostering sustainable, accessible, and quality physical rehabilitation services, and promoting inclusion.
Every year, MoveAbility gives between 1 billion VND and 2.1 billion VND in aid to the programme with the aim of purchasing orthopaedic devices for the eligible people with disabilities, and covering their accommodation and travel costs, thereby bring joys to the disabled and their families.
Since the start of 2017, a total of 305 disabled people in the above-mentioned coastal localities have received assistive devices from this programme.
Truong Hong Hoan, a 34-year-old disabled man from Quang Binh Province's Quang Ninh District said he had his leg amputated after an expected incident 15 years ago, and since then he has walked on wooden crunches. Luckily, Hoan received a lower-limb prosthesis funded by the ICRC) MoveAbility Foundation.
This orthopaedic device is an added incentive and an effective supporting tool for him to keep moving on despite all hardship surrounding him, and enjoy a better life.
In a similar vein, another man with disabilities, Tran Van Cu, 62, from Da Nang's Son Tra District happily said a prosthesis he received from the programmes really makes his movement easier because it is lighter, stronger, and more naturally functioning and highly aesthetic.
In addition, doctors from the city's Orthopaedics and Rehabilitation Hospital and employees from the municipal Association of Disabled People wholeheartedly instructed him about how to use this orthopaedic device.
In the coming time, in an attempt to ensure the sustainability and quality of physical rehabilitation services, the ICRC MoveAbility Foundation will offer various educational opportunities to support the professional development of current and future prosthetists and orthotists in Viet Nam.
In addition to its fundings given to the programme, the MoveAbility Foundation has given aids to the implementation of support activities over recent years.
Included are writing contest with the aim of instructing the disabled how to use orthopedic devices, and a badminton competition with the participations of more than 200 physically challenged persons.
Municipal Fatherland Front Committee Chairwoman Dang Thi Kim Lien said the programme is scheduled to continue its journey in the coming years. She highly applauded the great significance of this profoundly humanitarian activity in helping to reduce poverty and ensure social security in the 6 above-mentioned localities.

.