Caring for resting place of fallen soldiers
July 26, 2019, 10:58 [GMT+7]
Over these days leading to the War Invalids and Martyrs' Day (27 July), martyrs' cemeteries throughout Da Nang have been refurbished with new 'coats' to welcome groups of visitors who come here to show their deep gratitude to heroic martyrs who laid down their lives for the nation's reunification.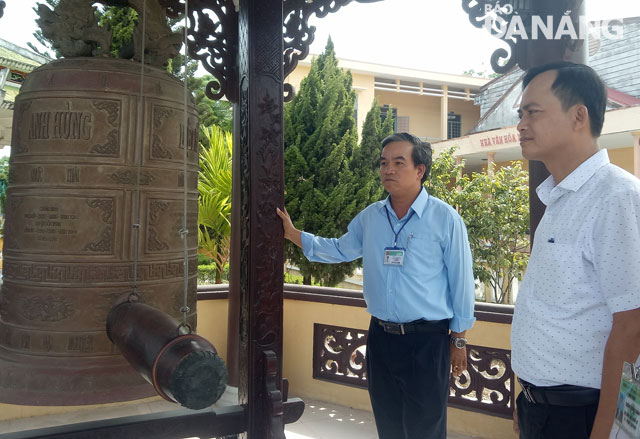 A newly-created bell tower at the Hoa Chau Commune martyrs' cemetery
The city is now home to a total of 20 cemeteries with a combined total of 9,400 martyrs' graves. Over recent years, the city authorities have paid special attention to upgrading and refurbishing martyrs' cemeteries across the locality.
It is noticeable that, late 2015, the municipal administration gave a nod to the implementation of a project for upgrading martyrs' cemeteries for the 2016 - 2018 period at a total cost of over 40 billion VND.
Importance was attached to building monuments, memorial steles dedicated to the fallen soldiers, fences, entrances, ornamental flower gardens, and other auxiliary facilities.
Also, the rebuilding of the Hoa Khuong Commune martyrs' cemetery was implemented at a cost of over 20 billion VND.
It is also worth mentioning that biological samples from the remains of 998 unknown martyrs who were repatriated and reburied in local martyrs' cemeteries, were taken for AND testing in order to find their genetic relatives.
Mr Thai Dinh Hoang, the Deputy Director of the municipal Department of Labour, War Invalids and Social Affairs, said, up to now, 100% of martyrs' graves across the city have been upgraded.
The municipal authorities have made appeals for public donations for the construction of steles commemorating heroic Vietnamese mothers, bell towers at martyrs' cemeteries and other spiritual works.
The refurbishment of a martyrs' cemetery in Hoa Phuoc Commune, Hoa Vang District, is nearing completion. A total of 335 martyrs who sacrificed their lives in the past resistance wars now rest in peace at this venue.
After 6 months of refurbishment, most graves now have new look. Meanwhile, workers are racing against time to complete a 750 million VND bell tower for its on-scheduled inauguration on the War Invalids and Martyrs' Day.
According to Mr Le Dinh Ca, the Chairman of Hoa Phuoc Commune People's Committee, the cost of this bell tower was covered by public donations.
In a similar vein, the construction of other bell towers at martyrs' cemeteries in the communes of Hoa Chau, Hoa Phu, Hoa Khuong and Hoa Tien, Hoa Vang District, is also progressing well.
The sound of these bells seems to show people's deep gratitude to the fallen, send sincere prayers to their souls and wish upon the country's unification and peace.
.