Casual workers in the city face financial hardship due to coronavirus
April 14, 2020, 17:04 [GMT+7]
The coronavirus outbreak has especially affected contract and casual workers, and thousands of them in Da Nang are among the hardest hit. They are struggling to pay for their everyday living costs, and to support their children and families because they have suddenly lost their daily income due to the pandemic.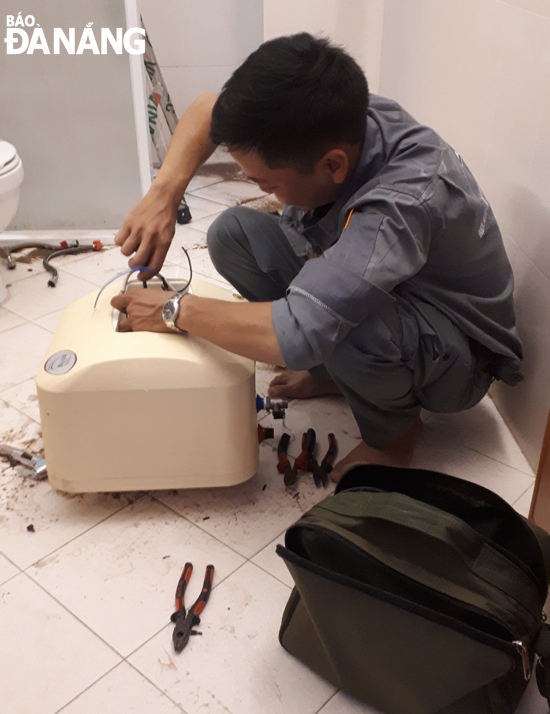 An electrical repairer doing his job
According to the municipal Social Insurance Department, as of late March, about 1,100 firms have been forced to suspend their operations, leaving more than 70,000 employees unemployed, amid the coronavirus crisis.
In March alone, about 16,000 labourers lost their jobs as their firms operating in the city were forced to scale down production or temporarily suspended operations.
We know that the financial impact of this crisis is going to hit many people hard and the number of people affected by the pandemic will continue to rise if the disease develops more complicated in the time to come.
Ms Nguyen Thi Thu Huong, Head of the Social Protection Office of the municipal Department of Labour, War Invalids and Social Affairs, said about 19,000 social policy beneficiaries and 12,000 families living below and near the city's poverty threshold are in need of assistance to ease their financial burden during the pandemic.
"In order to support affected labourers, my organisation will work with with relevant agencies to provide financial aid for the hardest hit in order to help them during this difficult time" Ms Huong added.
By THANH VAN - Translated by MAI DUNG
.