Efforts of the city's most crowded tourist destination to curb coronavirus spread
April 13, 2020, 17:41 [GMT+7]
Being dubbed Da Nang's most crowded tourist destination, Son Tra District has put in place strict measures to tackle the coronavirus, with a focus on ensuring the safety of people in isolation during their quarantine period in the locality to prevent cross-contamination.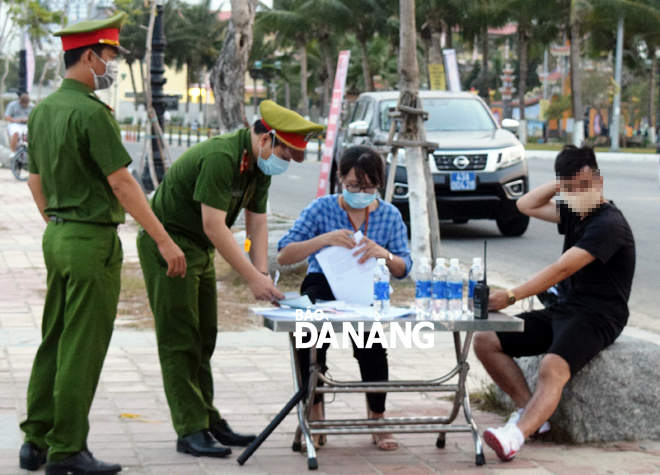 Police in Son Tra District imposing fines on violators for ignoring social distancing guidance following the coronavirus pandemic
Two quarantine sites for Vietnamese citizens returning to the country from abroad amid coronavirus pandemic, and those in direct contact with the city's coronavirus patients have been set up in the district .
The Sam Grand Hotel located at 7 Pham Van Dong Street is being served as a temporary isolation site for international arrivals. 15 medical workers of the district-based Medical Centre are staffing three shifts around the clock at the hotel.
To date, a total of 130 foreigners have stayed in isolation at the hotel. During their 14-day quarantine period in the district, the foreign nationals have been provided with free medical examinations, and they have tested negative for the virus.
In addition, an isolation area has been set up at the district's Medical Centre at 1063 Ngo Quyen Street.
Till date, a total of 35 returnees and 42 foreigners who had been in close contact with the confirmed cases of virus in the city have been placed into quarantine at the district's Medical Centre.
Also, 201 people have been kept under close observation at their places of residence.
Since 8 March, the district has quarantined all arrivals to Da Nang, and taken their throat swab and blood serum samples to test for the virus following the Prime Minister Nguyen Xuan Phuc's guidelines in order to identify Covid-19 infection cases and prevent the spread of the virus.
Since 1 April, the district has put in place the city's drastic measures to limit further spread of coronavirus.
Fines totalling 183.7 million VND have been imposed on 216 violators for not wearing face masks in public places, gathering in large crowds, illegal gambling and ignoring social distancing guidance following the coronavirus pandemic.
By HOANG HIEP - Translated by MAI DUNG
.