One new Covid-19 infection confirmed on Sunday, total hits 241 in the country
April 06, 2020, 08:43 [GMT+7]
Just one new case of Covid-19 was reported in Viet Nam on Sunday, bringing the total number of infections nationwide to 241.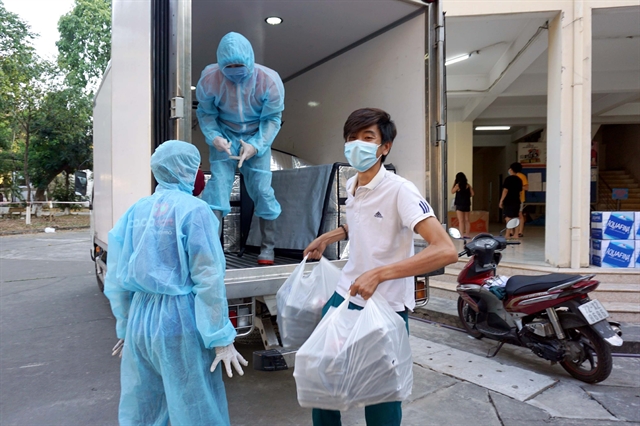 Medical workers deliver meals for people staying at the quarantine area in HCM City National University. More than 78,400 people have completed the compulsory 14-day quarantining period and have returned home.
With no cases reported on Sunday morning, and just one on Saturday, it means in the whole country there have been just two new cases reported in the last 24 hours.
The 241st patient is a 20-year-old Vietnamese man who was studying in the UK and lives in Thao Dien Ward, in HCM City's District 2.
The Ministry of Health (MoH) said on March 21, he returned to Viet Nam from London on flight number VN0050, seat 5A. After arriving at Can Tho Airport on March 22, he was sent to a quarantine camp at Bạc Liêu Province Military School.
He tested negative to SARS-CoV-2 on March 25.
On March 31, the patient developed a fever and sore throat and was admitted to Bạc Liêu Province General Hospital for isolation on April 1.
A further test by HCM City Pasteur Institute on the same day confirmed the patient was infected with the disease.
His roommates at the camp are currently being isolated and monitored.
As of Sunday, the MoH say 91 people in total have recovered from the disease. The latest case to get the all clear was a British patient being treated in central Quang Nam Province.
More than 78,400 people across the country have completed a 14-day quarantine period and returned home.
MoH also urged all related agencies to handle outbreaks in Bach Mai Hospital in Ha Noi and the Buddha Bar in HCM City, two locations considered 'hotspots' for the virus.
Source: VNS
.