The city takes more drastic actions to tackle coronavirus
April 17, 2020, 11:07 [GMT+7]
Da Nang is entering its third week of strict social distancing measures following Prime Minister Nguyen Xuan Phuc's latest guidelines. Therefore, the municipal authorities are taking more drastic measures to combat the novel coronavirus.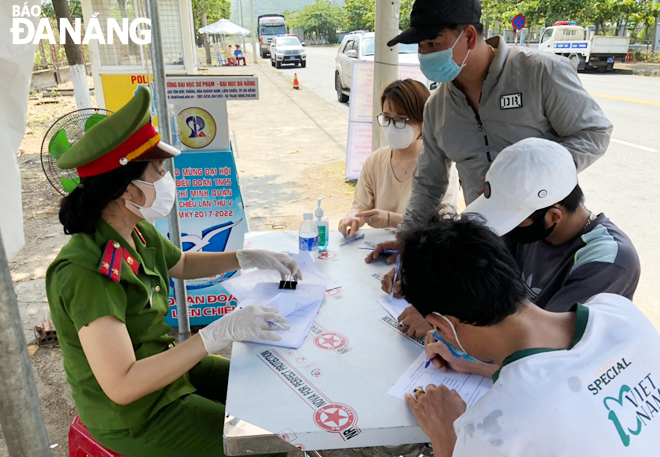 All arrivals to the city are required to fill in health declaration
The city continues stringent implementation and enforcement of health screening measures at checkpoints which have been set up within major entry and exit points in the city.
Security personnel are staffing such tourist sites as the Hai Van Pass, the Van Village, and the Nam O Reef in order to prevent local residents from gathering in large crowds. Also, such forces are on duty at the Khanh Son landfill site in Hoa Khanh Nam Ward, Lien Chieu District, to remind people not to enter the site in a bid to reduce the risk of coronavirus infection from rubbish there.
Also, police officers are increasing their patrols along beaches, including Pham Van Dong, Nguyen Tat Thanh and My Khe, in the early mornings and afternoons in order to prevent crowds from gathering, and swimming.
A healthcare worker checking the temperature of arrivals to the city at a checkpoint
The district-level authorities are increasing their monitoring on both Vietnamese and international arrivals to the city between 7 and 24 March, and anyone arriving from Ha Noi and HCMC which have high numbers of infections in Viet Nam.
In addition, local relevant agencies will increase checks and impose stricter penalties on any violators for sharing false information about the coronavirus on social media, and ignoring social distancing guidance following the coronavirus pandemic.
Meanwhile, the city's healthcare sector is ready for fully deploying necessary supplies, healthcare personnel and facilities to combat the further spread of the coronavirus.
By NGOC PHU, PHAN CHUNG - Translated by MAI DUNG
.