The city's 5th coronavirus patient recovered, discharged from hospital
April 06, 2020, 19:34 [GMT+7]
One of the remaining two patients to be treated for coronavirus in Da Nang has been discharged from the Da Nang General hospital.
The city's 5th patient was discharged from hospital after full recovery
The 24-year-old woman returning from Thailand, a resident of the central province of Ha Tinh, tested positive for coronavirus on 22 March after she had been placed in isolation in the Centre for Training National Defense and Security Knowledge in Lien Chieu District for 2 weeks upon arrival at the Da Nang Airport on 20 March. She is the fifth person in Da Nang to be diagnosed with the disease.
She was transferred to the Da Nang General hospital after testing positive for coronavirus, and has been treated in the hospital.
She left hospital on Monday afternoon following three negative tests.
The Da Nang Emergency Centre 115 used an ambulance to help the woman return home in Ha Tinh Province.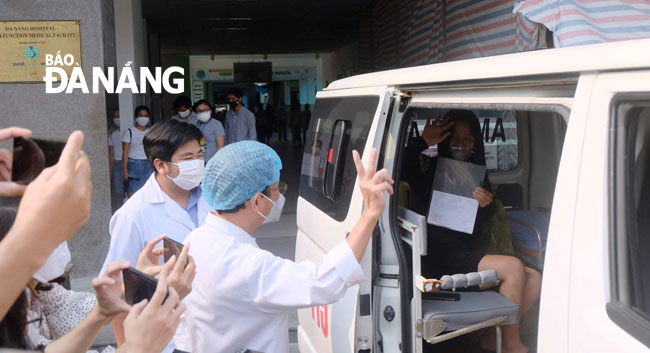 An ambulance taking the woman in for returning her to her hometown
Healthcare workers in Ha Tinh Province will put in place close monitoring of the woman during her 14-day self- quarantine period at her residence after discharge following the Ministry of Health's guidelines.
Thus far six people have been diagnosed with the disease in Da Nang. In all, five have been cured and discharged from hospital till date.
Currently, only one patient is still receiving treatment in the Da Nang General Hospital. She became the city's 6th patient after her tests came back positive for the virus on 24 March. She has posted once negative tests for the virus after receiving treatment in the hospital.
By PHAN CHUNG - Translated by MAI DUNG
.