Da Nang extends social distancing rules until further notice
August 11, 2020, 17:00 [GMT+7]
Da Nang will extend its strict social distancing rules until further notice in a bid to contain the coronavirus pandemic in line with the Prime Minister-mandated Directive, the Da Nang government announced on Tuesday morning.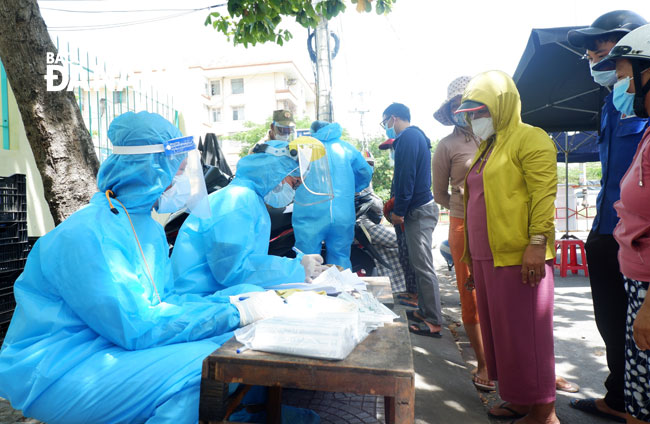 Medical workers are seen taking samples for Covid-19 testing from market stallholders in the Son Tra District-based Nai Hien Dong Market
It is worth mentioning that the Da Nang government underlined an urgent need for our community to ensure the full compliance with the city's social distancing measures in a more drastic and effective manner in a bid to prevent the spread of the deadly virus.
The importance should be attached to ensuring that each family isolates itself from other families, one village from other villages, one commune from other communes, and one district from other districts.
Everyone is encouraged to stay home as much as possible and only go out under absolutely necessary circumstances such as trips for food, medicine, emergency care or for working at essential businesses, factories, and services that have been allowed to continue operating.
People are required to maintain a two metre distance from others, and gatherings of more than 2 people are banned in public places, except for public offices, schools and hospitals.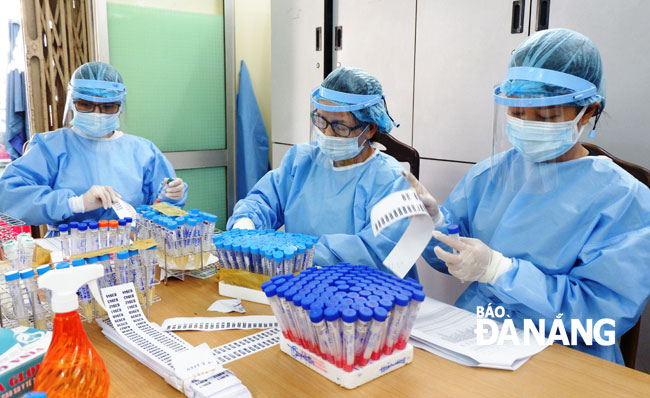 The CDC Da Nang's staff collecting the already-taken samples for tests
'Non-essential' businesses including entertainment facilities, beauty salons, massage and karaoke parlors, and bars will remain closed.
Functional agencies are required to continue enhancing high vigilance against the novel coronavirus and strictly comply with infection prevention and control measures released by the national and municipal governments in a proactive, responsible and effective manner.
In particular, the municipal Department of Health must work closely with other relevant agencies to speeding up contact tracing, epidemiological investigation, and group sampling and testing activities.
The municipal Department of Information and Communications is in charge of raising the public awareness of the significance of the infection prevention and control measures in prevent further local community transmission infections for the sake of the public health.
Due to the large flows of market- goers, traditional markets are deemed to be vulnerable to the potential outbreaks. In light of this fact, many precautionary measures must to be strengthened to curb the spread of the deadly virus.
All market stall holders and market- goers, plus staff working in traditional markets across Da Nang are required to wear face coverings, wash hands with soap and water and clean them with hand sanitizer, maintain a 2 metre distance from others, and undergo compulsory body temperature measurements.
By PHAN CHUNG – Translated by A.T
.