Da Nang police levies VND 7.5 million coronavirus fake news fine for a Quang Nam man
August 06, 2021, 17:41 [GMT+7]
Police in Hoa Tien Commune, Hoa Vang District, Da Nang, on Friday morning said that they have asked their competent authority to issue an administrative fine of VND 7.5 million to a 35-year-old man from Dien Hoa Village, Dien Ban Town, Quang Nam Province for the dissemination of coronavirus fake news on social media.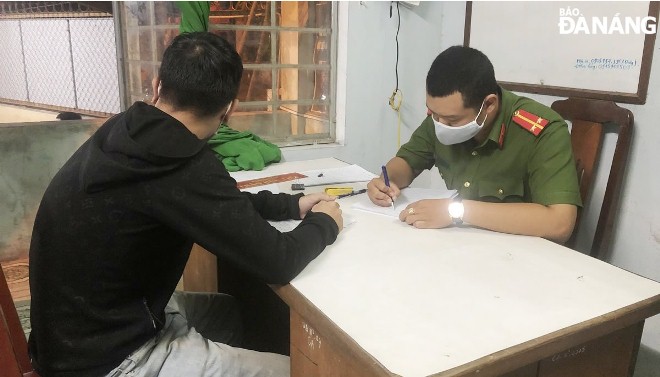 The Quang Nam man (left) is being questioned at the Hoa Tien Commune police station. Photo: L.H
False information on COVID-19 testing for all staff at the Hoa Tien Commune People's Committee and residents in its surroundings after one positive case detected spread rapidly on social media platforms in the evening of August 4.
The wrong information caused confusion among officials and people in Hoa Tien Commune, as well as fostered their anxiety and affected the adherence of municipal response measures during the city-wide social distancing period.
Police in Hoa Tien Commune quickly investigated into the COVID-19 fake news, and found the Quang Nam man who spread misinformation about coronavirus on social media. He was requested to attend at the Hoa Tien Commune police station for an interview.
He will face strictest penality for the dissemination of misinformation on the coronavirus on social media under Viet Nam's national government decree.
Reporting by LE HUNG - Translating by H.L
.