Brave man risks his life to save many victims from drowning
June 23, 2022, 18:56 [GMT+7]
With nearly 20 years of working as a lifeguard, 62-year-old man Nguyen Van Day, residing in Son Tra District, has bravely struggled with the water god to save dozens of lives of unlucky people who lost their boats or drowned. Moreover, he is also an enthusiastic residential leader being responsible for the community work.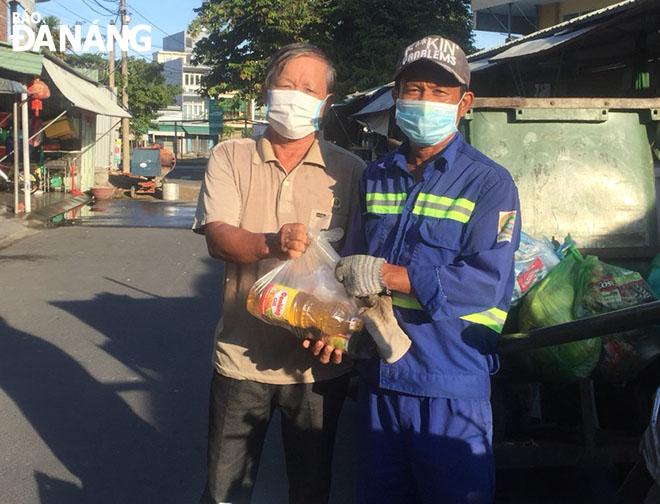 Mr Nguyen Van Day (left) gave gifts to a needy local person. Photo: HONG QUANG
In 1978, Mr Day responded to the sacred call of the Fatherland to enlist in the army and perform international missions in Cambodia. In September 1982, he was discharged from the army and returned to the locality. As the city has thrived on tourism, he has participated in lifeguard missions at Da Nang beaches and tourist venues as the leader of the My Khe beach rescue team in the Son Tra District.
Once, while on a rescue mission at sea, with the rich experience of a person who had lived near river areas, he realized that a person was sinking. Then he immediately swam toward the victim and struggled to save him. Thanks to being pulled ashore and giving CPR in time, the man was saved.
So far, Mr Day could not remember all the cases he saved since there have been too many to count. Someone asked him if he was afraid to take lives from the water god, he said that when he saw someone in trouble, he didn't think about himself but immediately jumped into the water to save people. He only thinks he has to do meaningful acts in life.
After nearly 20 years of working as a lifeguard at sea, he has been so used to the salty smell of seawater, the harsh heat of summer days and the piercing cold when standing on duty at sea in winter. Those years have been also a period his team has struggled with each fierce wave to regain the lives of many people.
Not only participating in the rescue team, but Mr Day has also joined in local work with many different positions such as Head of the Residential Group, and Head of the Veterans Association. For all of his jobs, he has completed tasks in a good and timely manner, and he has been also loved by everyone.
On top of that, he has worked with other branches and neighbourhood organizations to mobilize people to participate in emulation movements and campaigns. He particularly spends his special care for poor households to grasp their thoughts and aspirations and solve problems arising in residential areas.
On an annual basis, he has usually mobilized benefactors to distribute rice and necessities to poor households in the locality and other difficult areas on the occasion of Tet. Besides, to have Phuoc My 2, 3, 4, and Ha Dac streets as spacious as they are today, it is necessary to mention his significant contribution to mobilizing people to support this project.
With those efforts, he has been awarded numerous certificates of merit by the Party Committee, People's Committee, and Farmers' Association of Phuoc My Ward in performing his duties. He was also awarded the Certificate of Merit for "Party member having well-completed tasks" for 5 consecutive years. However, he considers the happiest thing for him is in the love and respect of the people for him and in the meaningful acts he does every day.
Reporting by HONG QUANG- Translating by T.VY
.