Da Nang residents warned of complex situation of dengue
June 16, 2022, 19:43 [GMT+7]
Despite great efforts by Da Nang government and relevant local agencies, a large number of dengue cases are reported in the city each day. Local health agency is urging local residents to voluntarily follow the city's dengue prevention and control measures with a focus on removing potential household mosquito breeding sites around their homes.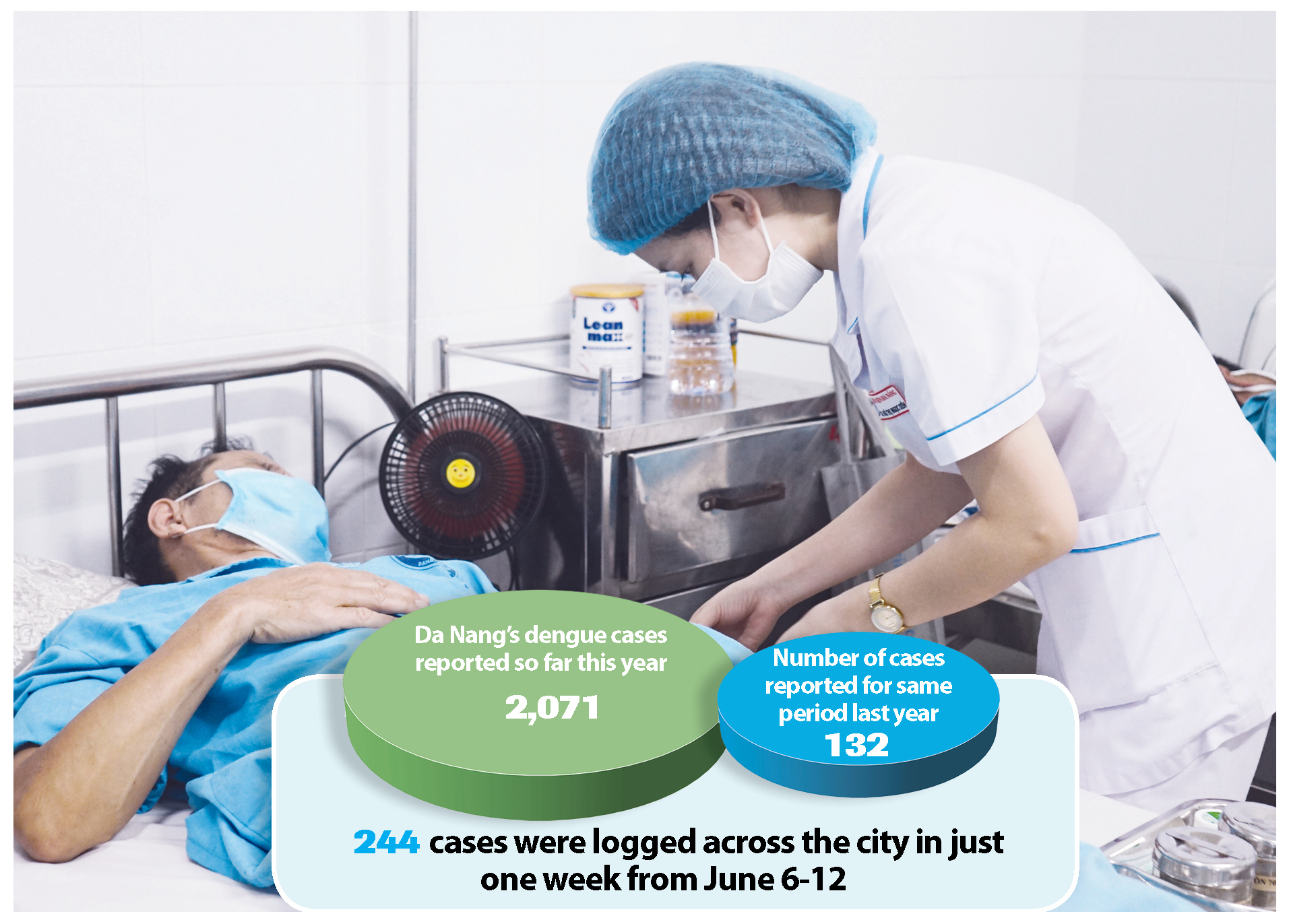 Da Nang is seeing a significant rise in dengue cases. Therefore, the threat of a possible outbreak of dengue now exists in the city, requiring active involvement of authorities at local level and residents in countering dengue virus infection. IN THE PHOTO: A nurse at the Da Nang General Hospital examining a male patient with dengue fever Photo: XUAN SON – Inforgraphic designed by THANH HUYEN
Significant rise in dengue hospitalizations
In recent days, the Ward for Tropical Diseases at the Da Nang General Hospital has witnessed a continuous rise in the number of dengue patients, the majority of whom are adults.
Doctor Truong Thi Hoa, the Deputy Head of the Ward for Tropical Diseases at the Da Nang General Hospital said that daily dengue cases in Da Nang are showing an upward trend as daily cases admited to the ward have hit 50 on average in recent days.
Furthermore, over 20 dengue patients are under treatment at the Lien Chieu District Medical Centre, two times times higher than the same period last year. Lien Chieu District has the highest dengue incidence rate in Da Nang with 754 cases recorded so far this year. In particular, 63 cases were logged across the district in just one week from June 6 – 12. Wards with highest number of dengue cases are Hoa Hiep Nam, Hoa Khanh Bac, Hoa Khanh Nam, and Hoa Minh.
The authorities in Lien Chieu District has focussed on promoting the health education and raise the awareness among local people in a bid to improve the control of dengue mosquito vector in addition to deeply cleaning schools and killing mosquitoes in their larval stage.
However, Lien Chieu is a densely populated locality as there are a large number of college students and workers who are living in cramped rental rooms with no natural light while they ignore their health, especially dengue fever risk.
In addition, there are many vacant plots found in the district where unused tools are dumped by local residents while the district is now home to many scrap recycling facilities and second hand car tyre traders, creating a favorable environment for midges to breed when rainy season arrives. Especially, local residents ignore to remove unused tools around their homes and residential setttings, resulting in increasing the risk of dengue fever spreading.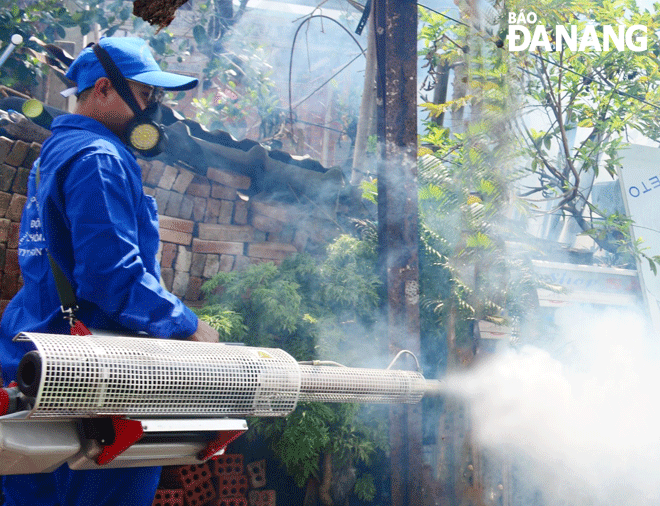 A medical worker in Son Tra District spraying disinfectant to kill mosquito larvae in a bid to prevent dengue fever. Photo: PHAN CHUNG
Proactive action needed to prevent dengue infections
Dengue fever is an acute infectious disease caused by the dengue virus. Dengue is transmitted by mosquitoes that transmit the dengue virus from an infected person to a healthy person.
Health experts advise local resdients to live in a healthy conditions and eliminate mosquito breeding site around their homes, keep their freshwater tanks free of mosquito larvae by breeding fish in their water tanks in order to prevent dengue infections. In addition, people should regularly sleep under bed nets, wear long-sleeved clothing, use mosquito repellent in a bid to prevent mosquito bites.
Local residents are advised to watch for signs and symptoms of severe dengue in them. Health experts highlight the need to immediately go to a local clinic or emergency room if you or a family member has any of the following symptoms: sudden fever, headache, and vomiting (at least 3 times in 24 hours).
Patients suffering from dengue need to have a sufficient intake of nutrients and a healthy diet plan to overcome the loss caused by the dengue.
According to the Da Nang Center for Disease Control and Prevention (CDC), the city has recorded a total of 2,071 dengue cases so far this year while only 132 cases were reported for the same period last year. The districts reporting most cases are Lien Chieu (754), Cam Le (349), Thanh Khe (336), and Hoa Vang (272).
In particular, 244 cases were logged across the city in just one week from June 6-12. High-risk areas of dengue are concentrated in 7 districts, namely Cam Le, Hai Chau, Hoa Vang, Lien Chieu, Ngu Hanh Son, Son Tra, Thanh Khe.
The Da Nang CDC stressed the need for surveillance activities that include vector surveillance and monitoring of environmental and social risk factors for dengue outbreaks to ensure that increased dengue transmission is detected early and that the response is rapid and appropriate.
Effective vector control measures should be taken to achieve and sustain reduction of morbidity attributable to dengue. Preventive and vector control interventions aim to reduce dengue transmission, thereby decreasing the incidence of the infection and preventing outbreaks of the disease.
The focus should be on taking necessary measures to ensure effectiveness in the city's control and management programs of dengue mosquito vector. Heed should be paid to increase the public awareness and promote the public health along with larval and adult control campaigns.
Health education strategies should educate the people to break the mosquito life cycle by destroying the possible mosquito breeding sites such as concrete pools, water tanks, utensils, aquaria, irrigation ditches and drainages as well as disposable tires and wastes. Special attention should be given to identifying high-risk areas of dengue in order to enable appropriate measures to be taken to control the dengue disease and reduce dengue infections
Reporting by PHAN CHUNG - XUAN SON – Translating by H.L
.