Preventing forest fires during scorching weather
June 16, 2022, 19:43 [GMT+7]
In the face of prolonged hot weather and potential risk of forest fires, forest rangers and localities have proactively implemented plans for forest fire prevention and fighting, minimising the damage to forest resources when there is an incident, and preventing the spread of fire and large blazes.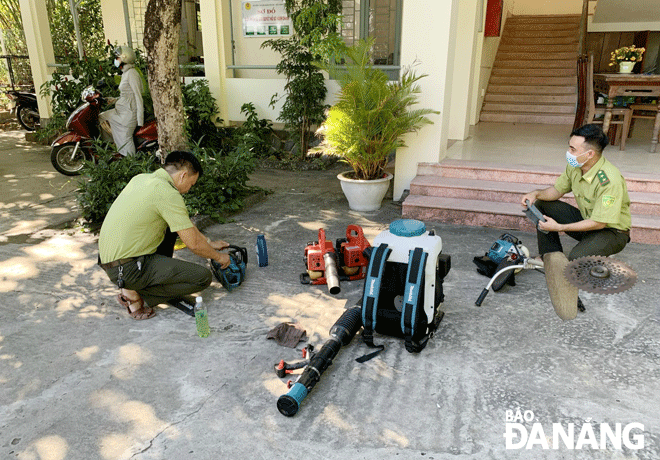 Forest rangers of the Son Tra - Ngu Hanh Son inter-district rangers check the means of forest fire prevention and fighting. Photo: VAN HOANG
High risk of forest fire
In early June, the Son Tra District Police heared about a fire in Bai Trem area, Tho Quang Ward, Son Tra District. Immediately, members from the Fire Prevention and Rescue Police Team from the Son Tra District Police and many rangers arrived at the scene in a prompt fashion to put out the fire.
After more than one hour, the fire was controlled and did not spread to other forest areas on the Son Tra Peninsula.
It was confirmed that a resident throwing cigarette butts on the lawn, causing the above-mentioned fire with a damaged area of about 400m2.
According to the Head of the Son Tra - Ngu Hanh Son Inter-District Forest Protection Department, through patrols on the Son Tra Peninsula, functional forces have discovered many flammable items such as stoves, grills and coals left by a number of local residents and tourists who joined camping and picnics.
Besides, the hot weather for a long time makes the risk of forest fire higher. A blaze will erupt whenever there is a spark, a very small piece of fire that flies out from something that is burning.
Forest rangers and local authorities have reminded both locals and tourists taking tours to the peninsula to strictly comply with regulations on forest fire prevention and fighting, especially avoid burning vegetation during hot summer days.
Deputy Director of the Management Board of Son Tra Peninsula and Da Nang tourist beaches Phan Minh Hai said, "The 'Ho Xanh' (Green Lake) area and sites for paragliding are frequently visited by campers.
From the beginning of 2022, the Management Board has coordinated with functional forces to handle 70 illegal cases of picnics and camping on the Son Tra Peninsula.
Intensifying inspections for timely handling
To implement plans for forest protection and fire prevention in the hot season, in 2022, the Son Tra - Ngu Hanh Son inter-district Forest Protection Department, in coordination with other functional local units, organised patrols, especially at night along roads on the Son Tra Peninsula, and placed barricades in Mieu Doi (Twin Temples) and Bai Chay sites to prevent acts of forest encroachment, in tandem with reminding thousands of tourists about forest protection and security maintenance.
In Hoa Vang District alone, the total forest area and forest development planning land is 58,405.39ha, of which the area of forest land is 55,938.47ha.
Right from the start of this year, the Hoa Vang District People's Committee has directed functional forces to develop plans for forest management and protection, and forest fire prevention and fighting.
The district's authorities have established 42 mass fire prevention groups in forested communes and set up mobile teams on duty at fire-prone locations to promptly detect and extinguish any forest fires from the very beginning, in a bid to prevent large wildfires.
Establishing the Rapid Response Team
In April 2022, the Da Nang Forest Protection Department established a 30-member rapid response team for forest fire prevention and fighting that is in charge of operating in three key areas, namely Nam Hai Van landscape protection forest, the Son Tra Nature Reserve and forests in Hoa Vang District. This team consists of officers from the Da Nang Forest Protection Department and local people. Every year, the Department regularly organizes training and the provision of labour protection equipment and fire prevention and fighting equipment and tools to the team.
Reporting by VAN HOANG – Translating by A.THU
.