Early handling of rockfalls on Son Tra Peninsula taken
August 02, 2022, 10:18 [GMT+7]
Along a section of Hoang Sa Street through the Son Tra Peninsula, exactly from Le Van Luong route to Bai Bac (North Beach) in Tho Quang Ward, Son Tra District, Da Nang, there are 6 locations at a risk of rockfalls. The municipal People's Committee has directed functional forces to soon implement temporary handling, ensuring the safety of people and tourists travelling on Hoang Sa route.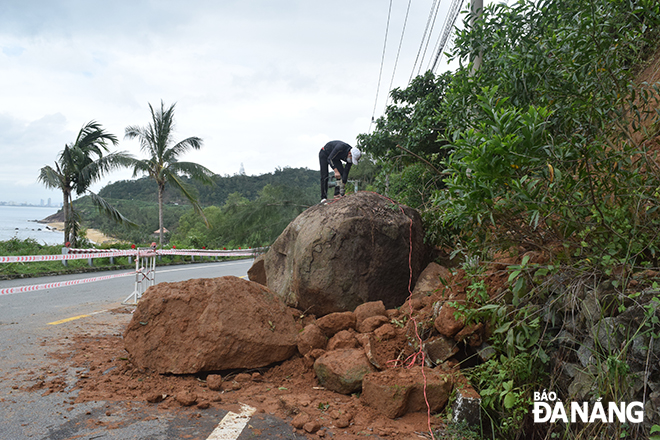 Functional forces handle large stone blocks that roll down onto the Hoang Sa road after a heavy rain at the end of December 2021. Photo: HOANG HIEP
On the days of April 14 and May 9, 2022, even though it was in the middle of the sunny season and it did not rain, a volume of rocks spilled out onto a section of Hoang Sa route. The rock fell down abnormally, hit the retaining wall built of concrete, damaged the embankment system and then rolled onto the road surface.
It is worth mentioning that, as observed by Da Nang Newspaper reporters on July 24, there were 2 landslides and rockfalls on this road where many people and tourists stopped to relax, admired the scenery and taken photos.
The above-mentioned section of road has a length of more than 650m, there is a risk of rock rolling down due to the high talus roof, steep slopes, inert surface with few shrubs and large rock formations, while the concrete barrier at the foot of the anti-erosion talus is only 1.5m high.
Faced with the above-mentioned situation, in mid-April 2022, the Da Nang Department of Transport assigned the Da Nang Traffic Infrastructure Management Centre to coordinate with other relevant units to propose a plan to handle the landslide situation along the Hoang Sa road.
Having conducted surveys, functional units have identified 6 road sections that are at risk of rockslides with a total length of 1,835m. The initial cause was determined to be the weathering of the current rock layers in the talus combined with the influence of heavy rains, leading to the appearance of unsafe rockfalls. Along with that, dangerous warning signs saying "Rockslides" at dangerous locations along Hoang Sa route.
According to Director of the Management of Traffic Infrastructure Centre Truong Bang Linh, recently, following instructions from the municipal government, in the immediate future, focus will be on bleaching weathered rocks that are in danger of rolling down onto the road surface along the Hoang Sa route, repairing locally damaged stone retaining nets, and intensifying retaining wall with wire mesh and cable nets for rockfall prevention.
The Da Nang authorities have advised people and tourists not to have entertainment activities in the area opposite locations where rockfalls happened along Hoang Sa road on April 14 and May 9. The Management Board of the Son Tra Peninsula and Da Nang tourist beaches will conduct inspections and set up warning signs to ensure safety.
Reporting by HOANG HIEP - Translating by A.THU
.