15 winners of municipal –level Press Award 2022 on Party building works honoured
December 23, 2022, 15:51 [GMT+7]
Winners of the Municipal- level Bua Liem Vang (Golden Hammer and Sickle) Award 2022 which was launched by the Da Nang Party Committee as part of the National Press Award on Party Building, were honoured at an awards ceremony in the city on Friday morning.
Also present at the event was Mr Nguyen Van Quang , the Secretary of the Da Nang Party Committee.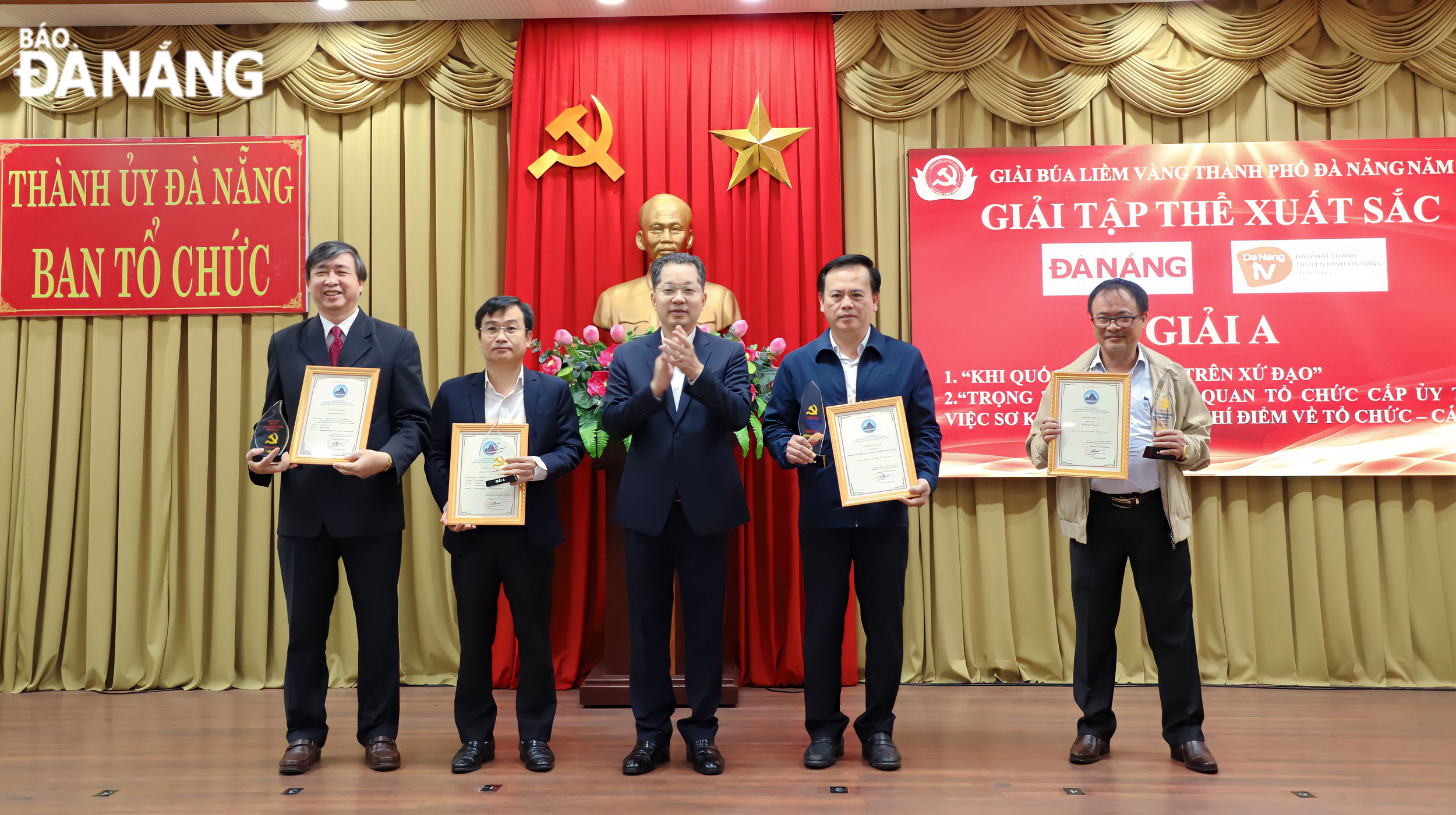 Da Nang Party Committee Secretary Nguyen Van Quang (middle) awarding prizes for outstanding individuals and organisations . Photo: NGOC PHU
The award aims to honour outstanding works in disseminating information and promoting understanding about the Party's policies and Party building work.
Launched in late August 2022, the organizer of this year's municipal Party Building Press Award has received a combined total of 72 entries from reporters of 11 media agencies based the city. Included were 23 print articles, 5 online articles, 3 documentary films, 28 reportages and 4 talk shows, and 9 radio products.
57 chosen from the 72 entries, including 29 TV products, 8 radio products, plus 18 print articles and 2 online articles, were nominated for this year's national Press Award on Party Building.
The municipal organisation board presented 2 A, 3 B, 4 C prizes along with 6 consolation prizes to best entries. In addition, two outstanding organizations were honoured with awards.
Reporters of the Da Nang Newspaper won 4 awards. In detail, B prize went to reporter Hoang Nhung for her print article named 'studying and following Uncle Ho's teachings' while reporter groups consisting of Trong Huy, Hoang Nhung and Ngoc Phu along with Trong Huy and Lam Phuong shared C prize for their articles entitled 'The nucleus of Party building work at the grassroots' and 'Taking great advantages of the model of Urban governance', respectively. Besides, a reporter group consisting of Hoang Nhung and Lam Phuong received a consolation prize for their work 'Effective mass mobilisation activities in site clearance: Experiences from Da Nang'. Furthermore, Da Nang Newspaper was honoured with Outstanding Organization Award.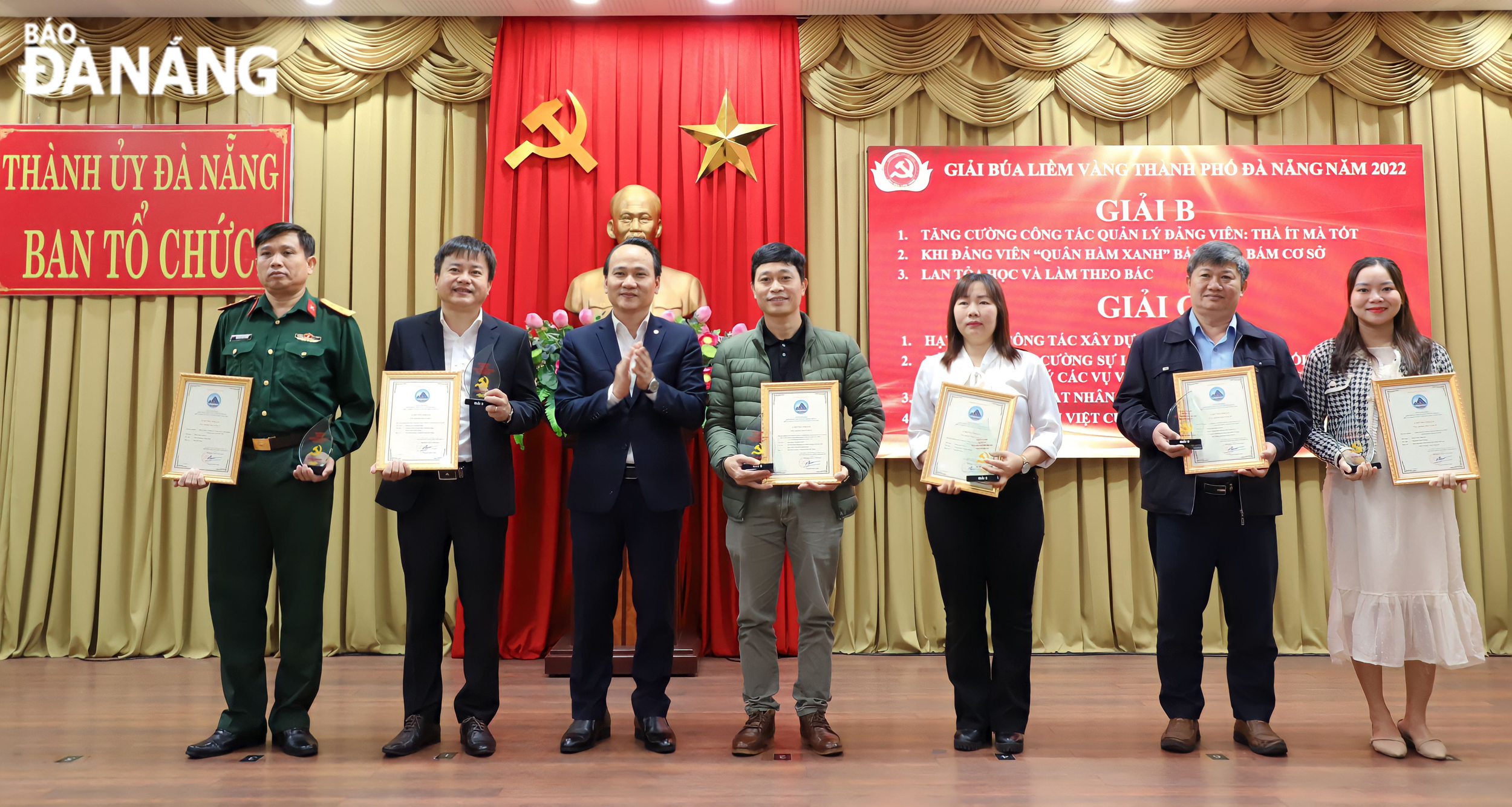 Mr Nguyen Dinh Vinh, the Head of the Organizing Board of the Da Nang Party Committee (third, left) and B and C prize winners. Photo X.D
Mr Nguyen Ba Son, the Deputy Head of the Organizing Board of the Da Nang Party Committee, (middle) and consolation prize winners. Photo: NGOC PHU
Apart from winners from the Da Nang Newspaper, entrants from the Da Nang Radio and Television Station, the Municipal Literature and Art Associations, the Da Nang An Ninh (Security) Television Channel, National radio broadcaster Voice of Vietnam (VOV) in Central region, the Quan Doi Nhan Dan (People's Army) Newspaper in the Central region and Highlands, Vietnam News Agency based in Da Nang, and others also won prizes. Most notably, the city's 3 entries named among finalists in this year's national Press Award on Party Building.
Mr Vinh praised this year's entries for promoting exemplary models in Party building work at the grassroots.
In the coming time, the award's organizer will make greater efforts to attract more entrants for the Municipal- level Bua Liem Vang Award, as well as encourage them to produce more high quality works on the topic, contributing to ensuring effective implementation of Politburo Resolution No. 43 on the development of Da Nang to 2030, with a vision to 2045, along with Da Nang Party Committee's Resolution in its 2020-2025 tenure.
Reporting by NGOC PHU – Translating by H.L
.