Turning waste into resources: Recycling as major pillar of raw materials supply
December 20, 2022, 18:39 [GMT+7]
In recent years, turning garbage into valuable resources or recycling waste is one of the effective ways to help the whole community rethink the way they discard things.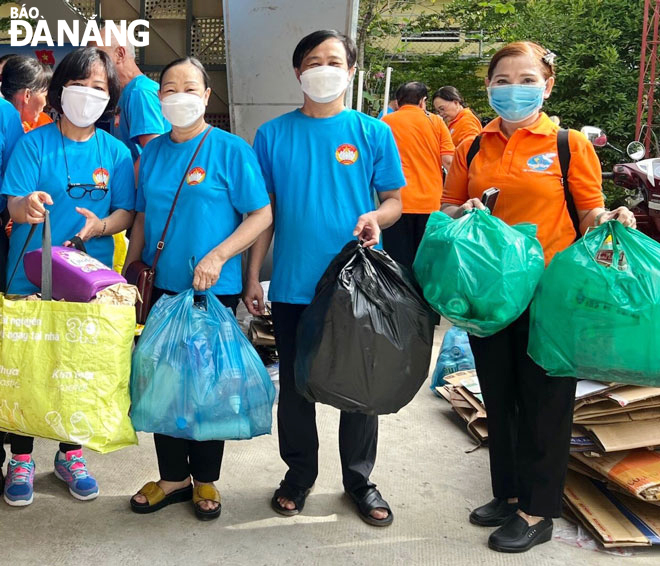 Residents participate in the collection of domestic solid waste in Hai Chau District to raise funds for the poor. Photo: KHANH HOA
Benefits from recyclable garbage
Boasting many years of experience in trading and distributing machinery for businesses operating in the field of environment, Mr. Phan Duy Phuong, the Director of U&I Phuong Quan Manufacturing Trading Co., Ltd. affirmed, garbage is great value resource. The industry of recycling waste into products serving human's life is thriving at home and abroad. The waste buying and selling market is taking place quite actively. As seen, benefits from turning garbage into resources in the city are quite abundant.
Currently, the U&I Phuong Quan Manufacturing Trading Co., Ltd. is linking with a number of enterprises across the country to jointly produce pellet fuels from garbage. Talking about the process of producing energy tablets, a form of fuel instead of coal, from trunk wood, Mr. Phan Duy Phuong said: "Tree trunks are purchased from many provinces and cities across the country, especially after tree trimming and pruning along urban streets in order to assure safety of the green tree system and road users during rainy and stormy season. The collected trunks are processed by the slicer system and then cooled down, pressed into pellets packed and brought to the market for sale. Current market price for energy pellets is 200-220 USD/tonne".
The company's export markets are mainly Japan, S.Korea and some European countries. Energy pellets are very popular because they can overcome the limitation of coal when it emits less CO2 into the environment.
In 2022, according to market research results of enterprises operating in the environmental industry, Viet Nam is the second largest country in the world in terms of supplying energy pellets. Meanwhile, the model of 'Waste sorting for creating a 'zero-VND' booth initiated by the Loc Phuoc 2 Women's Union, Tho Quang Ward, Son Tra District is one of the typical examples for recognising waste as a type of resources.
Money collected from the sales of solid waste such as packaging, beer cans and plastic of all kinds are spent on organising the booth every Sunday at which hundreds of free-of-charge items are provided for those living in financially-difficult circumstances. Through this model, the life cycle of waste resources will continue to regenerate, providing funds for social welfare activities.
Determining that waste sorting at source is a prerequisite for effective waste treatment and recycling into a resource, towards the goal of green development, building Da Nang into an environmentally-friendly city, from 2019, the Da Nang administration has implemented the classification of domestic solid waste at source across the city until 2025. This plan is expected to create to form a habit of garbage sorting in the community, a motivation to move towards implementing waste treatment solutions, including recycling.
It is known that, on average, the amount of garbage collected in Hai Chau District is from 240-250 tonnes per day. Since the beginning of the year until now, the total volume of construction solid waste and bulky and large-sized garbage collected has reached 2,939m3. Nearly VND 644 million collected from the sale of recyclable trash to raise social welfare funds targeting those with disadvantaged circumstances in the district.
Till date, all local districts have issued a plan for encouraging local residents to actively classify waste at source for the 2019 - 2025 period, and each year, 83% of the residential groups and 100% of the schools in the city have sorted waste at source.
In two years 2019 and 2020, more than 1,700 tonnes of recyclable waste were collected across the city. In 2021, more than 1,453 tonnes of resource waste were collected, the total amount of money collected from resource waste is about VND3.14 billion. The volume of hazardous waste collected after sorting was about 2,808 kg, mainly batteries and light bulbs.
Many models have been strongly deployed such as 'Plastic waste collection bin', 'Women limit the use of plastic bags', 'Take your own container to the food court instead', 'Waste recycling festival', 'swap recyclable trash for gifts'.
Particularly in 2022, nearly VND 3.7 billion was raised from collecting more than 1,626 tonnes of recyclable waste. The volume of hazardous waste collected after sorting is about 33,010kg, mainly batteries and light bulbs.
In the 2021- 2024 period, more than 10 organisations ran 13 international aid programmes and projects with a total budget of more than VND70 billion to support Da Nang in implementing solid waste management, waste sporting at source.
Towards building waste processing industry
In the coming time, the local authorities will strengthen calls for international projects to support localities in domestic solid waste management, aiming to build Da Nang into an environmentally-friendly city and soon put the Law on Environmental Protection 2020 into practice.
In June, Da Nang and iDE Viet Nam have already inked a cooperation agreement on implementing the DMDP project 'Creating a Sustainable Circular Economy for Plastic Waste in Viet Nam' funded by the Danish International Development Agency (DANIDA) at a total budget of VND 37.86 billion. Under the project, Da Nang eyes the goal of increasing by 25% of the profits for all economic sectors participating in the plastic waste ecosystem; collect, process and consume 5,000 tonnes of plastic waste, raising the rate of plastic recovery from waste to 35%, pouring about VND 11.3 billion in plastic waste economy.
On a national scale, the city is now strongly participating in the project 'Building a sustainable circular economy for plastic waste in Viet Nam' with the goal of increasing livelihood opportunities in plastic waste management, collecting and selling plastic that may be discharged into ocean, through responsible business practices, increasing the rate of plastic recovery from plastic waste to 35% from less than 15% at present.
"With the city's continuous growth, the amount of waste is expected to continue to go up. Along with classification, reasonable mechanisms and policies must be developed to encourage enterprises to invest in waste recycling and processing industry. That is the fundamental and sustainable solution", emphasized Ms. Nguyen Thi Kim Ha, Deputy Head of Environmental Protection Sub-Division under the Da Nang Department of Natural Resources and Environment.
Reporting by KHANH HOA - Translating by A.THU
.