Philippines removes facility-based quarantine for vaccinated travellers from 'green' countries
October 16, 2021, 11:51 [GMT+7]
The Philippines will lift the quarantine requirement for fully vaccinated travellers from China and more than 40 other countries and regions with low numbers of COVID-19 cases.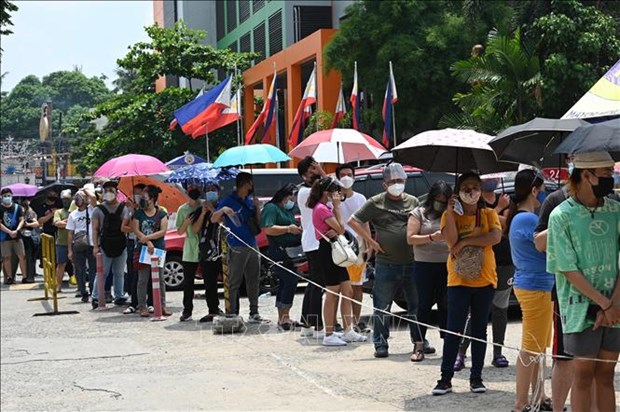 People waiting in line to get vaccinated against COVID-19 in Manila, Philippines. (Photo: AFP/VNA)
The information was announced by Presidential Spokesperson Harry Roque on October 15.
Roque said the new rule, which applies to travellers from China, and other countries and regions on the "green list", will come into effect from October 16 to 31.
Arriving passengers must have negative RT-PCR test results within 72 hours before they depart from the country of origin. Upon arrival, no facility-based quarantine will be required but the passenger is enjoined to self-monitor for any symptoms until the 14th day.
Those who have not been vaccinated or are not fully vaccinated, and individuals without a recognized vaccination certificate, and those who have been vaccinated but do not comply with pre-departure testing regulations, need to be isolated at designated facilities until they have negative RT-PCR test results on the 5th day.
Foreign visitors are still banned from entering the Philippines as part of border control measures when the government imposed lockdown measures and restrictions in March 2020. Only visitors with special visas such as diplomats are allowed to enter the country.
Source: VNA
.