Increase in deposit interest rate needed for Viet Nam-based international travel agencies
Published: July 03, 2014
According to Vietnamese regulations, international travel agencies operating in Viet Nam are required to make deposits of between 250 million VND and 500 million VND at banks in the locality where they are operating. Then, they will earn a non-term interest rate of 0.2 % per month.
The mandatory deposits are essential to prevent any unexpected risks for tourists, as well as to create a healthy business environment and stop illegal travel activities across the country.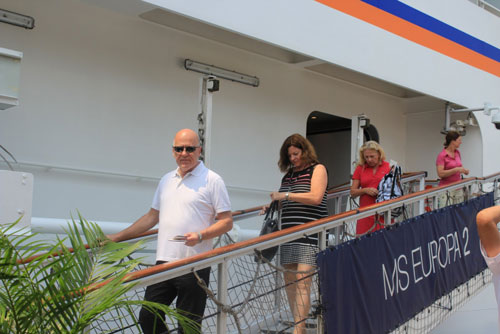 Cruise ship passengers arriving in the city
Many of Da Nang's tourist business owners suggest an increase in this interest rate in order to attract more bank deposits from them. The existing rate is low compared with the current lending interest rates of between 1% and 1.5% per month on bank loans for local tourist businesses.
According to the municipal Department of Culture, Sports and Tourism, the city is now home to 175 travel agencies, 87 of which are foreign tour operators. The majority of the international travel agencies specialise in organising inbound and outbound tours. However, currently, only 3 of them are making bank deposits.
Many local tourist experts said that a total of about 22 billion VND-worth of bank deposits are expected to be mobilised from the 87 international travel agencies per month. Meanwhile, bank interest is under the management of the city's Tourism Promotion Centre. If the interest rate on the deposited money was increased to 12% pa, the interest would reach 2.64 billion VND. Local tourist businesses suggest that this interest should be spent on the city's tourism promotion activities, instead of using the current low funding from the city's budget.
Furthermore, some local tourist businesses recommend that the city's authorities should find ways to use bank deposits from international travel agencies more effectively, as well as tighten the management of their operations. This will help the local tourism sector to reach this year's targets.


.