Sun World Ba Na Hills Resort named 'Viet Nam's Leading Attraction'
Published: July 13, 2017
Da Nang's Sun World Ba Na Hills Resort has been honoured with the 'Viet Nam's Leading Attraction 2017' award by the Viet Nam Tourism Association and the Viet Nam National Administration of Tourism. The awards ceremony was held in Ha Noi on 8 July in order to honour the most outstanding tourism businesses in 2017.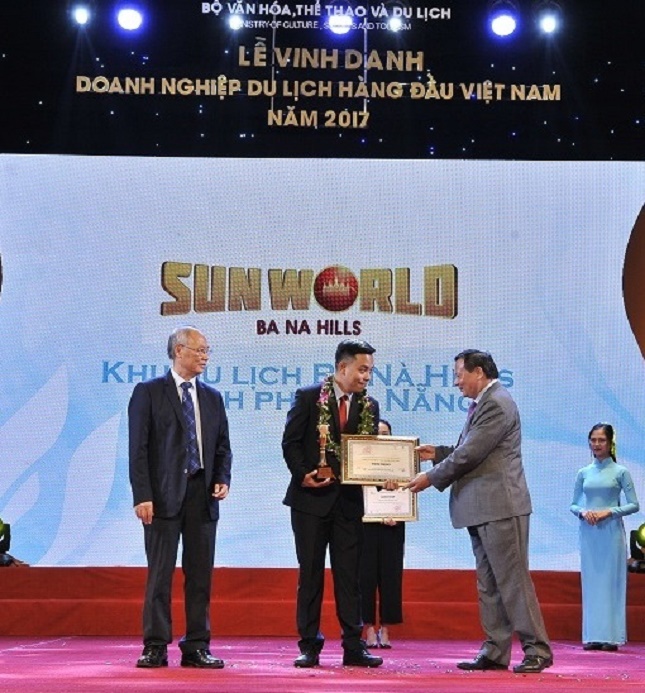 A representative from the Sun World Ba Na Hills Resort receiving the award
This is the third consecutive year that the resort has won this notable award. The award continues helping the resort affirm its prestige and reputation in Da Nang, and in Viet Nam as a whole.
Mr Nguyen Lam An, CEO of the Ba Na Cable Car Service Company, remarked "This prestigious award is the result of the resort's high-class tourism services, and the devotion and constant efforts of all its staff members. We commit ourselves to applying even more effort to enhance the quality of our services in the near future in a bid to deserve the trust and expectations of our customers."
Developed by Sun Group, the Ba Na Hills Resort was officially opened to the public in 2007 and since then it has become one of Viet Nam's most popular entertainment areas and tourist attractions.
The resort features world-record-holding cable cars, the French Village, the Le Jardin Flower Garden, a mountain-climbing train, the Debay Wine Cellar, the Linh Ung Pagoda, the first-ever wax museum in Viet Nam, and Fantasy Park which is the largest indoor entertainment centre in Southeast Asia.
In April, the resort officially opened to the public its 2 new restaurants in the French Village - Arapang and Viet Nam - bringing the total number to 22 throughout the resort.
In addition to expanding the scale of its facilities, the resort has focused on enhancing the quality of its entertainment activities. In particular, many special and exciting festivals have taken place in the resort, including the beer festival B'estival, and the Carnival, Halloween Mysterious and Magical Christmas festivals.
In the near future, many new entertainment areas will be put into operation in order to meet the diversified demands of the visitors. These include a sensory garden with designs based on the Hollywood movie 'Avatar', a Hoi An garden re-creating images in miniature of Hoi An City, and some European-style castles which will look like those in world-famous fairy tales.
.