City takes actions to attract more FDI
As foreign direct investment (FDI) capital has been a major driver for development in Da Nang, the city is working to attract even more FDI.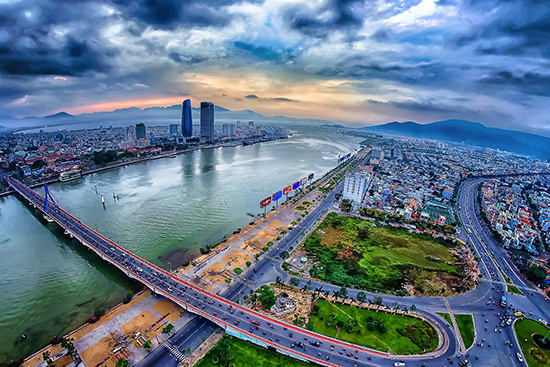 A corner of Da Nang
FDI bolster local economy
As of September 15, the city had housed a total of 660 FDI projects, securing total capital of more than 2.87 billion USD. FDI has played a crucial role in boosting the city's economic growth, and contributes considerably to the city's export revenue.
FDI firms exported 557 million USD worth of products in 2015 and gained 765 million USD in 2017, which made up 52.2% of the city's total exports. By September this year, export revenue earned by FDI enterprises is estimated at 880 million USD, or 53.3% of the total shipment value.
Some 44,000 local labourers are employed at FDI companies. Last year, the firms contributed more than 171.33 million USD to the city's budget, up 112.87% from 2016.
During January-August, FDI businesses contributed 120.8 million USD to the State budget. The sector also helps promote a positive shift in economic structure, from industry-service-agriculture to service-industry-agriculture. Thus, important production industries have been formed in the city, including electronics, motorbike, automobile spare parts and automobile assembly.
Measures taken to up FDI
According to Truong Quang Nghia, Secretary of the municipal Party Committee, as the city is accelerating FDI attraction, authorities have joined forces with foreign diplomatic offices in Viet Nam to promote the city's image and potential to foreign investors.
The city has worked to publicise all planning information to ensure transparency, and allow investors to decide the most appropriate investment projects, he said.
Hoping to become a high-quality tourism, service and high-tech hub of Viet Nam, the city is prioritising high-tech projects, including information and technology, bio-technology, automation, new material technology, environmentally friendly projects, supporting projects in engineering and precision engineering, as well as top-quality services, particularly in trade, tourism, logistics, health care and education.
The Da Nang Hi-Tech Park has more than 300 hectares of clean land with full technical infrastructure, which is available for investments in bio-technology, microelectronics, optoelectronics, automation, information and technology, precision engineering, nano technology, and environment technology.
Vice Director of the municipal Department of Planning and Investment Le Thi Kim Phuong said the city is preparing infrastructure to lure investors. It is completing procedures to develop the Lien Chieu port project to serve import-export activities of FDI firms.
Meanwhile, the city is developing new industrial parks like Cam Le (30 hectares), Hoa Nhon (30 hectares), Hoa Phong (50 hectares), Hoa Khanh Nam (11.8 hectares) and Hoa Hiep Bac (13 hectares).
Additionally, it is urging the study of an international hospital project to serve healthcare demand in the city. The hospital's location is planned in Hoa Xuan ward, Cam Le district, and Hoa Quy ward, Ngu Hanh Son district.
As part of efforts to connect FDI and domestic firms, the municipal People's Committee recently issued a regulation on supporting industry development policy. Accordingly, the city will give financial support to businesses engaged in studying new technologies.
With pilot production of supporting industrial products, investors will receive maximum financial aid of 300 million VND (12,900 USD). Meanwhile, those who study and develop production technologies will be provided up to 500 million VND (21,500 USD). Projects to pilot the manufacture of supporting industrial products will receive a maximum of 100 million VND (4,300 USD) in aid.
The city will focus on attracting investment from the Republic of Korea, Japan, the US, Singapore, members of the Organisation for Economic Cooperation and Development (OECD) in Europe like the UK, France and Germany, who have well-developed economies and hold strengths in services, high-tech industry, real estate, high-tech agriculture, healthcare and education.
(Source: VNA/ DA NANG Today)
.