Promoting upgrade of traditional markets to attract more visitors
Major markets in Da Nang such as Han, Con, and Phuoc My are seeing many positive changes in their images, especially the promotion of trade civilisation, in a bid to become must-see attractions for tourists, especial foreign ones, during their stay in the seaside city.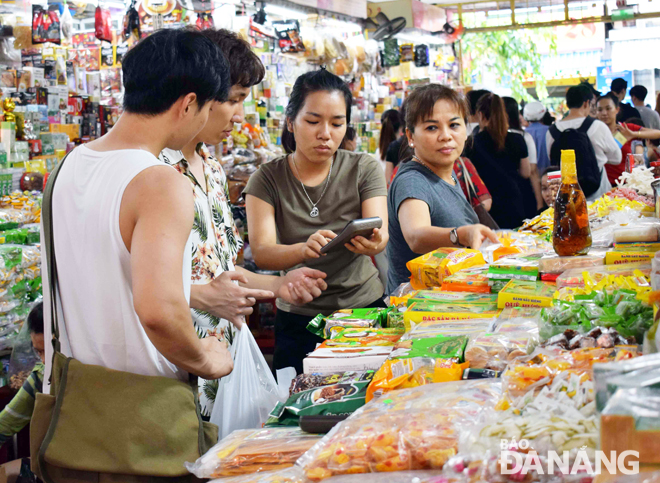 Traders at Han Market has always maintained their polite attitude and behaviour towards their customers
Boasting a history of more than 30 years, the Han Market has emerged as a popular attraction in Da Nang.
Located in the heart of the city, this is a large traditional market featuring a total of over 700 large and small stalls. Most of foreign tourists arriving in Da Nang like to experience the bustling trading atmosphere at this popular market, and enjoy the local cuisine.
Nguyen Thi Thanh Van, the Head of the Han Market Management Board, said that the number of tourists coming to this market now accounts for more than 90% of the total shoppers, mainly from Ho Chi Minh City, Ha Noi, and South Korea.
In order to satisfy the diversified shopping demand of the tourists, over the past 2 years, the Management Board has encouraged traders to take the initiative to offer such items attractive to tourists as fashion clothes, handmade handbags, souvenirs, and fresh seafood.
In particular, in the context of a growing number of foreign shoppers coming to the inner-city market, the Management Board have organised foreign language classes for traders, hereby enabling them to communicate with foreigners.
Ms Hoang Thi Hue, a fashion clothes trader at the market, said her stand is enjoying high consumption of goods by foreign tourists. Thanks to their participation in courses in English, Korean, Chinese, Japanese and other popular foreign languages, she and other traders now can communicate with foreign shoppers with exchanges of clear and easily understandable information.
Located in one of Son Tra District's tourist-packed areas, the Phuoc My Market every day welcomes a large number of foreign visitors, especially those staying nearby.
In recent times, the Son Tra District authorities had the go-ahead to the refurbishment of the Phuoc My Market, with heed paid to upgrading the lighting, drainage system, and placing stainless steel tables and chairs at the food court.
In an attempt to fully tap the tourism development potential of the Phuoc My Market, the ward-level authorities have proposed the upgrade of this venue into an attractive night market serving both locals and tourists from early morning until midnight.
Alongside, it is suggested that the routes of Phuoc My 3 and Ha Dac should be expanded so as to promote the tourism and service activities in the market.
The municipal Fair and Exhibitions Management Company and the city's Market Management Bureau jointly encouraged all local small traders to make commitments to trading in food of clear origin, wearing uniforms on pubic holidays, and ensuring their friendly, polite attitude and behaviour towards their customers.
Especially, on 20 October, the company will start to ask traders at the Han Market to attach QR-coded labels on the packaging of their products before they sell them to consumers.
Piloted at Da Nang's Han Market in 2013, the civilised and food safety market model has been expanded into other markets across the city. As a result, it has proved extremely effective as demand for safe food is rising.
The Con Market Management Board is keeping a close eye on managing the quality of food sold at the venue, and help traders adapt to the food safety market model. Thanks to effective food safety control measures, the market is the best choice for those who want to enjoy tasty and popular dishes at reasonable prices in a busy trading atmosphere.
During the peak tourism season, local interdisciplinary teams usually conduct surprise visits to traditional markets to detect whether or not traders comply with the regulations regarding seafood origins, food safety and hygiene, environmental sanitation.
.