Tourism promotion activities focussed on domestic and international fairs
Published: September 11, 2018
In recent times, Da Nang has paid special heed to accelerating tourism promotion activities through increasing its participation in domestic and international fairs, in an attempt to atract even more visitors from both home and aboard to the city.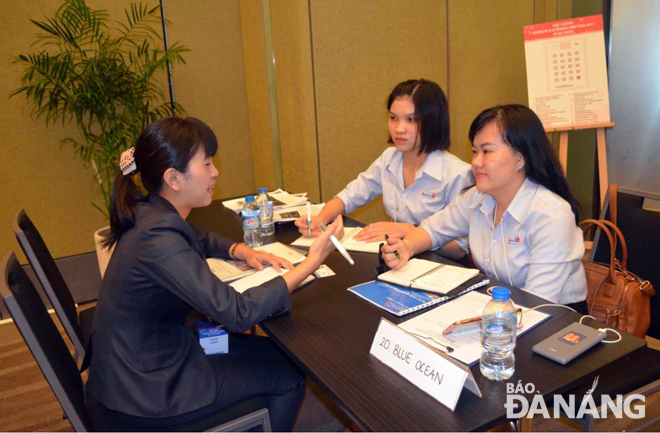 Representatives from a local business having information exchanges with a Japanese partner at a tourism promotion event
In her remarks, Ms Le Nguyen Ngoc Thu, the Sales Manager for the Southern Region at the Cocobay Entertainment and Tourism Complex in Ngu Hanh Son District, highlighted the fact that participating in domestic and international fairs enables tourism businesses to introduce their images and products to their potential clients.
As part of their tourism promotion activities, it is common to see that many businesses often show off their products and regular activities for their clients. At Cocobay, for instance, there are a wide range of high-end activities and festivals held regularly for its guests, thereby considerably attracting not only visitors from its traditional tourist markets, mainly Asian countries, but also those from new emerging ones such as Australia and the USA.
Mr Nguyen Son Thuy, the General Manager of the Indochina Unique Tourist Co Ltd, remarked that the implementation of tourism promotion activities at fairs is a long-term, persistent and effective way to attract clients and partners. Therefore, they should not waste good chances at such important events.
In reality, fairs are open to a large and sometimes diverse range of audiences (usually the general public), providing the participating businesses with a platform to promote their products or services to a broader group that may have little or no knowledge of their products and services. Depending on their types of business, product and market testing can be carried out at fairs to gain industry or general opinions about their offering. Also, being involved in a fair can provide them with opportunities to branch out to business-to-business trading, and create a customer database from the visitors to their display booths.
The Da Nang Tourism Promotion Centre, in collaboration with 15 local tourism businesses along with authorities of the provinces of Quang Nam and Thua Thien Hue, jointly participated in the 14th International Travel Expo Ho Chi Minh City - ITE HCMC (ITE - HCMC) 2018 from 6 – 9 September.
The ITE – HCMC 2018 featured around 375 display booths of hundreds of local and foreign enterprises from a total of 40 countries and territories worldwide. The event was an opportunity for travel agents, hotels and representatives from tourism promotion agencies to publicise their brands, and introduce their tourist products to domestic and international travellers.
At this large-scale event, the 3 central regional localities focused on introducing their new tourism products, festivals, tourism events for this year. In addition, tourism businesses took the opportunity to offer travel vouchers and discounts on tours to the coastal central region.
According to Ms Huynh Thi Huong Lan, the Deputy Director of the Da Nang Tourism Promotion Centre, the city regularly participates in domestic and international travel fairs. It also attracts a large number of international famtrip delegations surveying local tourist attractions and products, as well as observing all local services. Furthermore, the cooperation with the provinces of Thua Thien Hue and Quang Nam for mutual tourism development is always kept in track.
In addition to tourism promotion activities at domestic fairs, travel agents and tourism companies in the city always grasp a great opportunity offered by international events.
From now until the end of this year, there will still be promotion activities at the upcoming international fairs. Notable are the ITB Asia 2018 from 17 - 19 October in Singapore, the China International Travel Mart (CITM) 2018 from 16 - 18 November in Shanghai.
Also, the Da Nang Tourism Festival 2018, held in next month, will be opened for representatives from domestic airlines, tourism companies, and travel agencies, and for those from such major international markets as Japan, South Korea, China, Thailand, Hongkong, Taiwan, and Southeast Asia.
Besides, the city will welcome groups of international farmtrip and international presstrip which want to survey and write articles about the local attractions and its tourism products.
.