Survey conducted to help Da Nang tourism bounce back from Covid-19
November 05, 2020, 17:22 [GMT+7]
In its efforts to help the tourism industry recover from Covid-19 pandemic, Da Nang recently conducted an online survey on domestic travellers through information channels. The intention is to gain deeper insight into diversified needs and tastes of domestic travellers, especially their feelings and comments on Da Nang's hospitality services.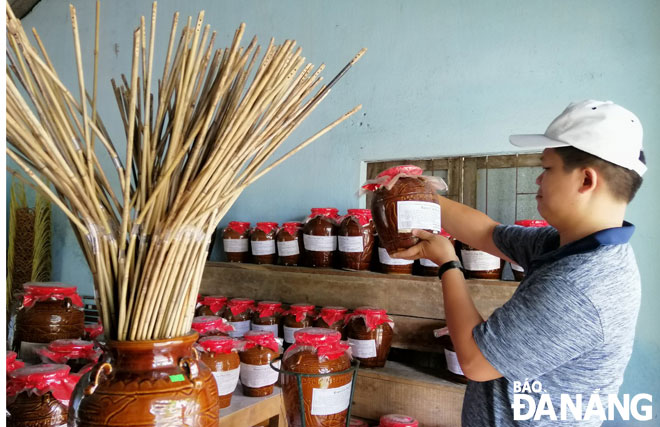 A domestic tourist learning about wine products made in Phu Tuc village, Hoa Phu Dommune, Hoa Vang District.
Such a highly-practical survey will help Da Nang tourism industry to make the most appropriate possible adjustments to its products and services in an effort to encourage more domestic tourist comebacks.
The survey focused on 16 questions related to tourists' travel needs, means of transportation, as well as what attractions they want to set their feet on, what preferential promotion packages they look for, and when they want to return to the city.
In particular, there was one open-ended question as the respondents could freely express their views and propose constructive measures on how to help the city increase visitor arrivals.
The results show 80.6% of the interviewed travellers planed to make Da Nang trips next year. 89.9% of them wanted local services, events, and cuisine to be diversified intensively.
With regard to their favourite tourism activities, 75.1% of the respondents showed their interest in beach leisure – one of the city's most popular hospitality products.
In addition, 77.5% of the interviewed travellers planed to make independent travel with their families or friends instead of booking guided group tours through travel agencies.
Besides, 59.8% wanted to stay at hotels, whilst a lower rate of choice are reported in other types of accommodation see a lower rate of choice. Meanwhile, 50% stressed a must-do to ensure a better tourism environment in the city in the time ahead.
The survey unveiled a fact that Da Nang is a fairly popular destination for domestic tourists, with up to 79% of the participants said they have visited Da Nang many times, 13% once and 8% not yet.
Travellers from Central Viet Nam to Da Nang accounted for about 48.8%, those from Ha Noi and Northern Viet Nam about 24.5%, and Ho Chi Minh City and the southern region about 26.7%.
Of interesting note, 0.6% of the respondents said "No" when asked whether the coronavirus discourage them to make Da Nang visits.
Deputy Director of Da Nang Tourism Promotion Centre Mai Thi Thanh Hai highly lauded the survey for helping the local hospitality sector figure out more appropriate domestic tourism recovery measures.
Through the survey, it can be seen that, for the time being, safe tourism environment becomes the most important criterion for travellers' destination options. Once ensured, this invisible tourism product, in fact, may help Da Nang lure more domestic tourists in the face of the still-raging complicated global pandemic.
In the coming time, top priority will be paid to diversifying the tourism product collection by creating such services as overnight camping and kayaking in Hoa Bac mountainous commune, developing more marine entertainment and sports activities, plus health care service packages, night entertainment experiences.
By NHAT HA- Translated by A.T
.