Flights from Da Nang proposed to be resumed from October 10
October 08, 2021, 08:55 [GMT+7]
The Civil Aviation Authority of Vietnam (CAAV) is seeking permission from localities across Viet Nam to resume domestic flights linking with Ha Noi, Da Nang and Ho Chi Minh City from October 10.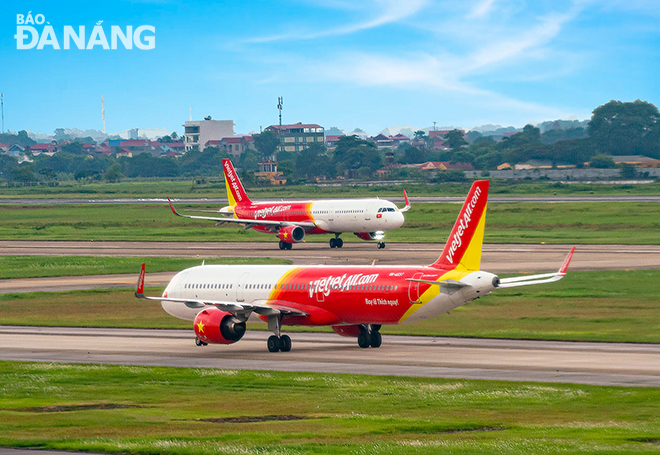 Illustrative image
CAAV is asking for approval from Vietnamese localities to not apply quarantine rule to air travellers from COVID-19 affected areas that show proof of a negative COVID-19 test.
According to VABA, aviation is a dynamic industry that always plays a crucial role in Viet Nam's economic and social development. In 2019, prior to COVID-19, the aviation industry carried 116 million domestic and international passengers, and it earned more than VND 200,000 billion, and paid the government more than VND 20,000 billion in tax revenue.
Since the COVID-19 outbreak, the airline industry has seen revenues dropping by over 90% compared with before the pandemic, experienced revenue losses amounting to more than VND 500 billion per day.
Accidents are so rare that commercial airline travel is statistically the safest mode of transportation overall. All pilots, flight attendants and airline staff members have been fully vaccinated.
In their efforts to ensure the highest level of safety for air passengers and crew members, domestic airlines have worked with hospitals to conduct rapid COVID-19 testing for all passengers before boarding plane (including those who present proof of a negative COVID-19 test result issued within 72 hours before going to the airport for their flight).
All air passengers are required to use PC-COVID, a consolidation of various COVID-19 smartphone applications hitherto used in Viet Nam. This app is now available on Apple Store and Google Play.
It is the only app used for COVID control in Viet Nam, and it will carry personal information, enable users to make health declarations and have vaccination and testing information among others.
According to the Information Technology Application Authority under the Ministry of Information and Communications, the app will be regularly updated and tweaked under the direction of Viet Nam's National Steering Committee for COVID-19 Prevention and Control.
Reporting by PHUONG UYEN – translating by H.L
.