Made-in-Viet Nam goods' prevalence in Da Nang market
October 08, 2021, 08:55 [GMT+7]
During the past times, the complicated developments of COVID-19 have directly affected trade activities and consumption trends in Da Nang. In that context, made-in-Viet Nam goods have become an important "support platform" for production and business enterprises nationwide.
As reported, domestically-produced goods have increasingly accounted for a large proportion in the total items for sale in supermarkets and convenience stores across Da Nang which majorly provided essentials for local residents in the context of social distancing in response to COVID-19.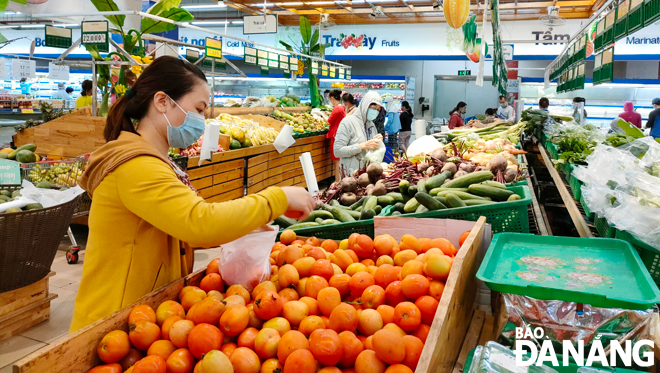 Vietnamese-produced goods have increasingly won the trust of customers. In photo: Shopper selecting domestically produced agricultural products at the Co.opmart supermarket in Thanh Khe District.
Vietnamese goods account for 90% in supermarkets and convenience stores
In recent years, Da Nang has seen a surge in demand for rice-based products of such Vietnamese brands as Safoco, Cau Tre and Vifon, especially during the city's social distancing period. The sales of such products during the social distancing period was up by 3 to 4 times compared to normal days.
"Over the past years, the Saigon Co.op (the manager of a network of Co.opmart, Co.op Food, Co.opXtra, and other supermarkets) has set certain priorities for Vietnamese goods. Domestically-made goods have accounted for 90% of the total on Co.opmart Da Nang's shelves" added Mr. Thong.
Meanwhile, such highly popular supermarkets as VinMart, VinMart+, Lotte Mart, MM Mega Market, and Go! are offering attractive discounts of up to 50% for all domestically produced products, creating an opportunity for consumers to purchase such goods at the most economical prices.
Ms Vo Thi Thu Thuy, the Director of Go! (the current name of Big C Supermarket), said that Vietnamese products made up for 95% of the total in her market. In addition, the supermarket always has preferential policies to support manufacturers and suppliers of Vietnamese goods.
Director Thuy said "We highly appreciate the role of Vietnamese goods in modern retail channels. Therefore, our supermarket earmarks four large stalls to display OCOP products (One Commune-One Product )".
In a similar vein, a high proportion of the total items for sale in convenient stores are Vietnamese-branded goods.
Mr Nguyen Khai, manager of the La Ban Mart based in Ngu Hanh Son District, said that a variety of fruits, vegetables, tubers, rice, cereals, pork, and dried foods, all from domestic producers, are on sale at his store.
He highly praised Vietnamese-branded goods for their high quality, new and eye-catching designs, and affordable prices.
Promoting consumption of Vietnamese goods in new situation
As the COVID-19 pandemic has slowed global trade and disrupted supply chains, the domestic market is really considered as a "supporting platform" for domestic enterprises.
In that context, large retailers have proactively forecasted the demand for goods when the pandemic is becoming more complicated. As a result, the supply of goods still meets the needs of residents, whilst the prices of essential goods remained stable.
Recorded at supermarkets and convenience stores, locally-made products such as confectionery, coffee, porcelain cups, fresh and frozen food, and school supplies are increasingly becoming popular with local residents. The Vietnamese products' dominance in Da Nang market has been mainly attributed to the efforts by domestic producers in constantly improving their product quality, renewing their designs, and registering trademarks for their reasonably priced products.
Most recently, in an effort to promote the implementation of the "Vietnamese People Give Priority to Using Vietnamese Goods" campaign in the new situation, the Da Nang government has asked local government departments and agencies to prioritise using Vietnamese goods, as well as raise public awareness of the purpose and meaning of the campaign, thereby encouraging more active engagement by domestic consumers for the campaign.
Additionally, importance will be attached to speeding up the simplification of administrative procedures relating to business, thereby boosting production and business activities in the city.
In response to the movement, the municipal Da Nang Fatherland Front Committee will continue to encourage domestic producers and suppliers to innovate technology and apply science and technology in their productions.
In addition, a series of fairs featuring Vietnamese products will be held across the city from now until the end of this year.
Reporting by QUYNH TRANG - Translating by M.DUNG
.