More policies needed to remove 'bottlenecks' in investment attraction
October 26, 2021, 16:10 [GMT+7]
Da Nang is making an attempt to tackle difficulties and challenges arising during the handling of investment procedures for large-scale and key projects citywide, aimed at speeding up the city's post-COVID economic recovery as well as creating a momentum for the city's growth in 2022 and the following years.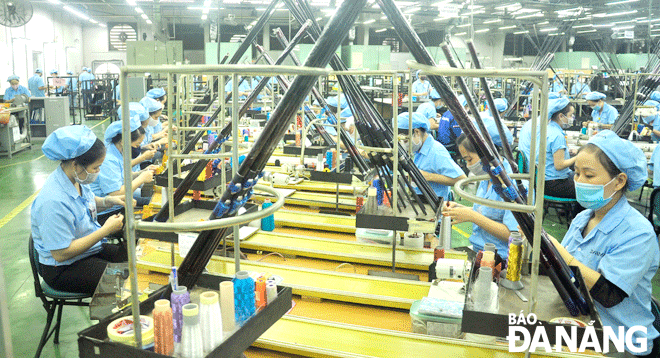 Workers at the Daiwa Viet Nam Co., Ltd.,, based in the Hoa Khanh IP in Lien Chieu District. Photo: THANH LAN
In the first 9 months of this year, Da Nang granted investment policy decisions for 16 domestic investment projects totalling more than VND2,371 billion, down by 3 projects outside local industrial parks (IPs) and by over VND14,170 billion, compared with the same period last year.
Besides, investment licences were granted to 29 new FDI projects, with a total investment of around US$ 149.135 million, a decline of 37 projects against last year.
Also, the Da Nang authorities granted business registration certificates to 2,672 new domestic and foreign businesses, branches and representative offices, with a total registered charter capital of over VND13,596 billion; down 13.4% in the number of enterprises and down 18.2% in the amount of capital over the same period in 2020.
According to Director of Da Nang's Investment Promotion and Support Board Huynh Lien Phuong, the COVID-19 pandemic has directly affected investment attraction activities, especially foreign direct investment.
To date, Da Nang has attracted a total of 29 FDI projects worth about US$5,145 billion in total. These projects have majorly involved in such aspects as information technology, research and development, education, healthcare, trade, logistics, smart urban complex, financial centres, amusement parks, and international-scale commercial centres.
However, up to now, the construction progress of such projects is prolonged and much depends on many factors such as waiting for the government's approval of zoning plans, detailed plans, and others.
For example, the construction of the Trung Nam Group-developed Golden Hills project which has been deployed for more than 10 years is facing some obstacles relating to site clearance and compensation work. To date, 40 households have yet to hand over their land lots to the project's developer, resulting in delays in the construction progress.
Many projects are facing the same problems, including an international inter-level school, the Centre for High-tech Medical Diagnosis, the Go Commercial Centre, the Da Nang University Urban Area, and the Hoa Xuan trade, sports and entertainment complex.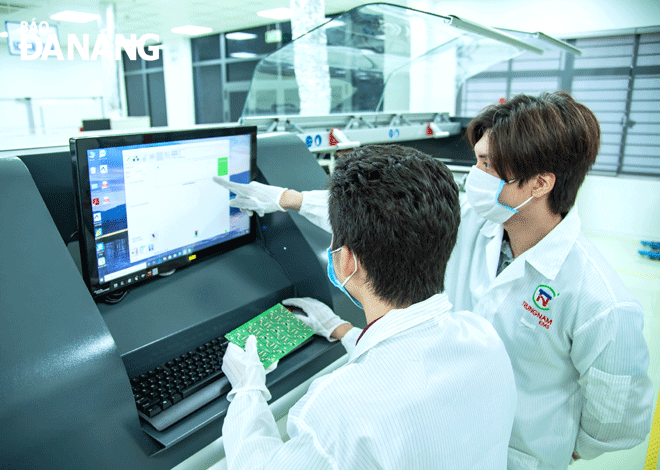 Engineers are seen at SMT high-tech electronics research and production factory (Trungnam EMS) located in the Da Nang Hi-Tech Park. Photo: PHUONG UYEN
Mr Kim Jinmo, Vice Director of the Korea Trade and Investment Promotion Agency (KOTRA), stressed pivotal role of government in facilitating investors to operate effectively in the city.
The President of the Japanese Business Association in Da Nang, Mr Ikeda Naoatsu, underlined the need for the city to issue more preferential support policies for local businesses in order to help them drive their post-pandemic production and business recovery.
General Director of the Heineken - Da Nang Brewery Co., Ltd. Nguyen Thanh Phuc suggested the city ask for permission from the Vietnamese Government and the National Assembly to provide active support for businesses so that they have more time to recover and develop. Included are reducing corporate income tax, value added tax and land rents, extending tax payment deadlines and subsidising interest in the next two years.
In an effort to deal with such problems, the Da Nang authorities have recently proposed some solutions to attract more investment inflows into the city amid the pandemic crisis. Specially mentioned are urgently issuing post-COVID socio-economic recovery plans and business support policies, continuing to accelerate administrative reforms in handling investment procedures for local businesses, and boosting digital transformation.
According to a spokesperson for the municipal Department of Planning and Investment, in the coming time, Da Nang will focus on speeding up the completion of investment procedures for large-scale and key projects in the city. Included are the Lang Van tourism and resort complex; the CMC Creative Space; the Centre for pharmaceuticals and medicinal herbs; the Da Nang International Trade Centre; Nam O eco-tourism area; a complex of financial, commercial, entertainment, casino and luxury apartments; Lien Chieu Port; the 2nd stage of the Hoa Cam IP; and the Hoa Nhon and Hoa Ninh IPs.
Reporting by THANH LAN - Translating by M.DUNG
.