Da Nang accelerates upgrade of Ngo Quyen - Ngu Hanh Son route
November 23, 2021, 17:37 [GMT+7]
Over the past time, the unexpected COVID-19 resurgence has adversely affected the progress of many projects, including the renovation of Ngo Quyen - Ngu Hanh Son route. In order to overcome difficulties triggered by the pandemic and ensure the schedule, contractors and construction units have focused on implementing many effective solutions to speed up the work.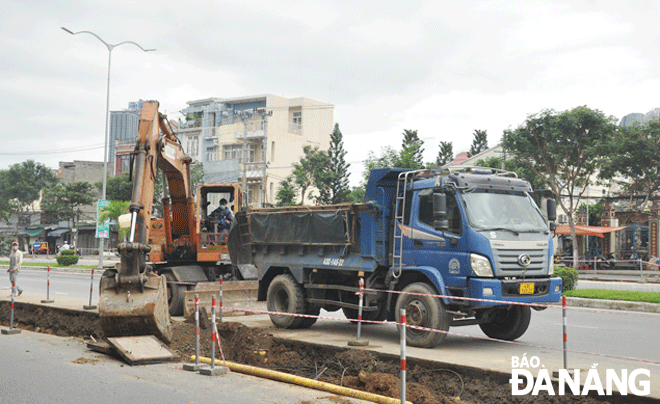 The upgrade of a section of Ngo Quyen - Ngu Hanh Son route stretching from the Tran Thanh Tong roundabout to the eastern end of the Han River Bridge. Photo: THANH LAN
In July 2019, the Da Nang People's Committee gave the green light to the upgrade of the Ngo Quyen - Ngu Hanh Son route with a cost of VND189.4 billion in order to limit road traffic accidents caused by tractors and trucks carrying freight in and out of the Tien Sa Port.
At per request by the municipal administration, the Da Nang Traffic Construction Investment Project Management Board is in charge of upgrading a 4.94km section of Ngo Quyen Street between the Nguyen Phan Vinh - Bui Quoc Hung intersection to its connection with Vo Van Kiet Street. Work commenced on this section in late 2020.
Meanwhile, upgrade is scheduled to start on a section between its intersection with Vo Van Kiet to Ho Xuan Huong streets in February 2022.
As observed, the upgrade project is running on track with the great efforts made by contractors and construction units.
Mr. Ho Anh Son, the Deputy Director of Construction Construction Joint Stock Company 545, said that, following the work suspension of more than 2 months, the progress of this project is being accelerated with the maximum mobilisation of human and material resources.
Nguyen Ba Hoanh, one of the construction workers on the site, said that, taking advantage of the sunny weather, he and other peers worked diligently through noon without stopping, sometimes took a short break and meals in a rush at the construction site.
Mr. Nguyen Minh Huy, the Director of Da nang Traffic Construction Investment Project Management Board, said that the whole project is initially scheduled to be completed in February 2022. However, contractors and construction units are racing against time to reach completion before December 31, 2021.
According to Chief of Office of the Da Nang Traffic Safety Board Nguyen Trung Nghia highly lauded the much-awaited upgrade project in ensuring traffic safety on the Yet Kieu - Ngo Quyen - Ngu Hanh Son arterial road, in tandem with enhancing the competitiveness of the Tien Sa Port and Tho Quang Fishing Wharf.
Reporting by THANH LAN – Translating by A. THU
.