Da Nang exchanges memoranda of understanding with Sumitomo Corporation and BRG
November 26, 2021, 10:10 [GMT+7]
As part of his 4-day business trip to Japan in order to accompany Prime Minister Pham Minh Chinh, Da Nang People's Committee Chairman Le Trung Chinh on Thursday attended the Viet Nam - Japan Investment Promotion Conference.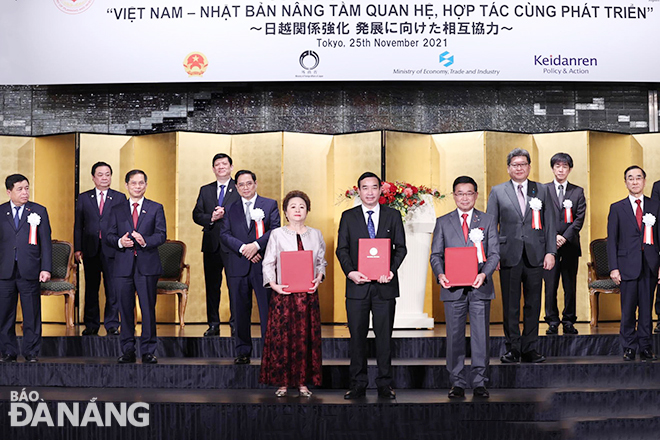 This image shows the exchange of signed business agreements between Da Nang People's Committee Chairman Le Trung Chinh (centre) and the President of Sumitomo Corporation (right) and President of BRG Group JSC (left). Photo: Freelance photographer
During the conference, Chairman Chinh exchanged signed memoranda of understanding on the implementation of infrastructure projects in Da Nang with President cum CEO of Sumitomo Corporation Masayuki Hyodo, and President of BRG Group JSC (Viet Nam) under the witness of Prime Minister Pham Minh Chinh and other delegates.
A day earlier, November 24, Chairman Chinh entered into memoranda of understanding with representatives from the Sumitomo Corporation and BRG Group.
Under the deals, the three sides will jointly conduct research and develop a handful of infrastructure projects in the city, as well as call for financial assistance from relevant agencies to realise those projects.
The annual Viet Nam - Japan Investment Promotion Conference was co-organised by the Vietnamese Ministry of Planning and Investment and the Japan External Trade Organization (JETRO) in Tokyo. This year's event has been resumed after a two-year suspension due to COVID-19 outbreaks and attracted thousands of participants, both in-person and virtually.
More than 40 cooperation agreements were signed and exchanged between Vietnamese agencies and enterprises, and their Japanese partners, during the conference.
The total value of these agreements surpasses US$3 billion, involving many Japanese business giants such as Mitsubishi, Sojitz, Aeon, Sumitomo, and others,
Currently, Japan is named among top largest sources of foreign direct investment into Viet Nam, with about 4,800 projects totaling more than US$65 billion. Japan is currently the largest ODA donor to Vietnam, with nearly US$27 billion.
As for Da Nang, Japan has been one of the important trading partners and one of the key markets that the city has prioritised calling for investment.
'The Land of the Rising Sun' is currently the largest source of foreign direct investment into the city with 216 projects, totalling more than US$ 985 million, accounting for 25.5% of the city's total FDI. The majority of Japanese-invested project have involved in manufacturing, real estate - tourism, information technology, services, and research and development.
Japan is also the largest market for Da Nang, reaching US$572 million USD, accounting for 37% of Da Nang's export turnover.
The Da Nang government is committed to creating all favourable conditions for Japanese investors to operate effectively in the city.
Reporting by PHUONG UYEN – Translating by M.DUNG
.