Demand for electricity soars in hot summer
June 24, 2022, 17:20 [GMT+7]
Over the past few days, the temperature across Viet Nam has been on an upward trend, especially in Da Nang, people are experiencing a severe heat wave with a mercury ranging from 36-38 degrees Celsius, and over 38 degrees Celsius in some places.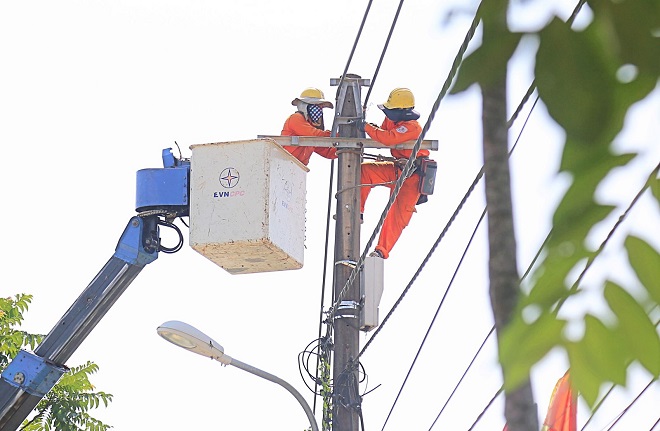 Da Nang PC workers work on the grid amidst the scorching weather with a mercury of over 38 degrees Celsius.
According to data released by the National Load Dispatch Centre, at noon on June 21, 2022, the national electricity consumption capacity exceeded 45,000MW for the first time and set a new record peak of 45,528MW.
As for the load on the Da Nang power system, on June 20 and 21, the peak capacity reached 545MW, an increase of nearly 10% from the previous week, and the power output reached nearly 11.5 million kWh, up 15% as compared to the average electricity consumption of last week.
Electricity consumption has reached the highest level since the beginning of the year so far.
The prolonged blistering heat normally leads to an abrupt upsurge of electricity consumption demand as families often use electrical equipment for cooling such as air conditioners and fans.
The hike in electricity consumption also leads to a high risk of local power grid failure due to operating at full load or overload at many times.
For households, prolonged intense hot weather also significantly affects the operation status and results in performance degradation of electrical equipment.
Even using electricity in daily life, the risk of overloading, automatic circuit breakers (aptomat) breakdowns, even the risk of fire and explosion on peak hot days will also increase as compared to normal.
To limit the risk of local incidents on the power grid as well as in the family, Da Nang Power Company Limited (Da Nang PC) recommends that agencies, businesses and households across the city pay attention to safe and economical use of electricity, especially during peak hours: 11:30a.m. - 2:30p.m. from 8:00 p.m.to 10:00 p.m.
In particular, when using air conditioners, temperature should be set in the optimal mode, at 26 degree Celsius and above, or combined with electric fans, as well as avoid using many electrical appliances with large capacity at the same time.
For all electricity consumption-related issues, please contact the Customer Care Hotline 19001909 that is on duty 24/7 for specific and timely answers, especially in the hot season.
Reporting by T. HA – Translating by A.THU
.