Speeding up implementation of ETC system at expressways
June 23, 2022, 18:55 [GMT+7]
All BOT (build-operate-transfer) toll stations across Viet Nam are required to complete installation of electronic non-stop toll collection (ETC) by June 30 in line with the Prime Minister's guidelines.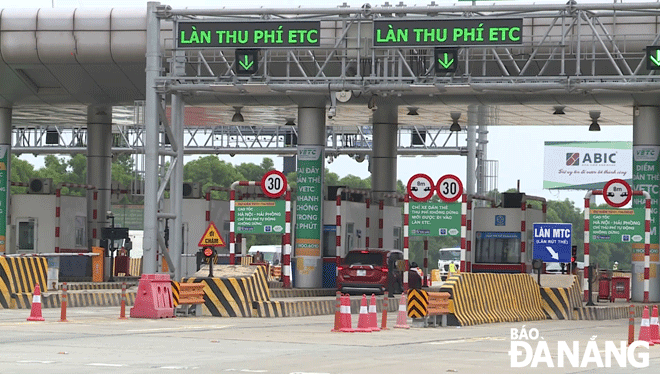 By June 30, toll collections will be suspended at BOT stations without the ETC system. The picture is taken at a toll station on National Highway 1A. Photo: THANH LAN
Currently , except for the projects of the State-owned Viet Nam Expressway Corporation (VEC), there are 113 toll stations nationwide that have installed the ETC system. Of the stations, the Ministry of Transport manages 69 stations on 351 lanes, while the remaining 69 others do not have any. Local governments manage 44 stations, and 189 roads have ETC systems installed while the other 63 lanes have not.
The VEC has recently announced that the ETC system will be in operation for Cau Gie - Ninh Binh, Da Nang - Quang Ngai, Noi Bai - Lao Cai and Ho Chi Minh City - Dau Giay expressways from July 31.
Mr Bui Hong Trung, the Acting Director of the Da Nang Department of Transport said that the Prime Minister has asked authorities nationwide to direct the stamping of identification cards for all vehicles under the management of agencies and units to use the ETC toll service, and stop using manual toll collection from June 1, 2022.
The use of electronic toll payment tags (etag) are now recommended for all cars to make them eligible to use the ETC system.
Authorised etag service providers are VETC Automatic Toll Collection Company Limited (VETC Card) with phone number 84 1900 6010 and the Viet Nam Digital Transport Joint Stock Company (ePass Card) with phone number 84 1900 9080.
Local governments are taking drastic steps to ensure the timely completion of installation of the ETC system at the remaining expressways in line with the national government's direction. Especially, the ETC system was sucessfully piloted at the Ha Noi - Hai Phong expressway.
Till date, about 3.2 million out of over 4 million cars in Viet Nam or 69% of the total have been equipped with etag.
Although management agencies and service providers made great efforts to improve infrastructure since the launch of the ETC system seven years ago, the number of vehicles using etag is still modest.
Moreover, only 60 per cent of the country's vehicles have deposited money into the account.
The Ministry of Transport set its target to achieve 80- 90 per cent of the country's vehicles using ETC tags by late 2022.
Vehicle owners now can deposit money into traffic accounts via e-wallets and banks. Digital transactions will be reported transparently to car owners.
Reporting by THANH LAN – Translating by H.L
.