RoK airlines resumes Incheon-Da Nang air route
June 23, 2022, 11:38 [GMT+7]
The Da Nang Department of Tourism in collaboration with the Da Nang International Terminal Investment and Operation Joint Stock Company (AHT) held a ceremony on Wednesday evening to welcome the first flight to Da Nang from Incheon, South Korea, after two-year hiatus triggered by COVID-19.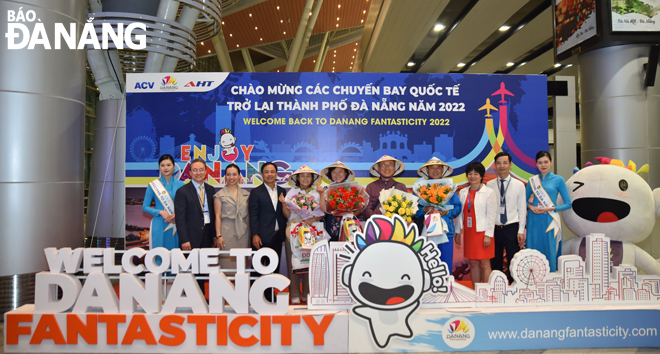 Deputy Director of the Da Nang Department of Tourism Nguyen Xuan Binh (fourth, left) and representatives of related units presenting flowers to passengers on the newly-resumed flight from Incheon in South Korea to Da Nang. Photo: THU HA.
Korean Air-operated flight KE9463, with over 200 passengers on board, departed from the Incheon International Airport at 6:40 pm on June 22 (at local time) and landed at the Da Nang International Airport at 9:25 on the same day.
According to Deputy Director of the municipal Department of Tourism Nguyen Xuan Binh, direct working sessions between the city's leaders and major international airlines within the framework of Routes Asia 2022 have had a positive impact on the restoration of the city's route network.
Korean Air is not only the largest airline in Korea in terms of aircraft numbers and international destinations, but also a pioneer in exploiting new destinations, thereby creating a driving force for the development of the tourism market of the country.
"Since 2012, Korean Air is one of the first two Korean airlines to have launched direct flights to Da Nang, creating a breakthrough for the Korean tourist market. I believe that the return of Korean Air will have a positive impact on the recovery of Da Nang's leading tourist market" said Mr. Binh.
The number of foreign visitors to Da Nang has shown signs of strong growth after the success of the Asian Routes Development Forum 2022 in Da Nang.
Since the city allowed the full resumption of tourism activities in March 2022, as many as 35,000 foreign passengers have arrived in Da Nang on 286 flights, including more than 12,000 passengers on 71 flights from South Korea.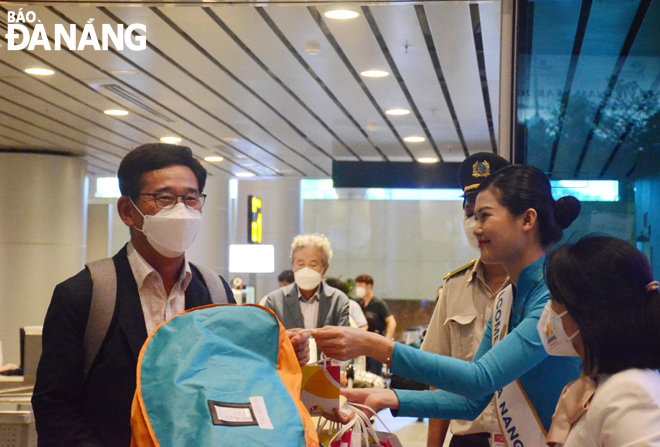 Air passengers arriving in Da Nang from Incheon, South Korea, are welcomed at Da Nang International Airport. Photo: THU HA.
According to the Da Nang International Airport Investment and Exploitation JSC, some airlines plan to resume international flights to Da Nang starting from July.
Specifically, the Jeju Air and Asiana Airlines will resume their air services on the South Korea's Incheon- Da Nang route on June 30 and July 13 respectively.
Flights connecting South Korea's Busan with Da Nang will be resumed by Jin Air and Air Busan on June 29, whilst Vietjet Air-operated flights between the two destinations will be resumed on July 20.
On July 1, the Cambodia Angkor Air will resume Cambodia's Siem Reap - Da Nang route, whilst Vietnam Airlines will resume flights from Da Nang to Narita in japan and Kuala Lumpur in Malaysia.
Hong Kong Express Airways is set to resume the Hong Kong - Da Nang air route on July 31. Meanwhile, Tway Air plans to resume flights between Da Nang and Cheong Ju in South Korea on August 3, and Daegu in South Korea on July 3.
Before temporary suspension of flights in March 2020 due to COVID-19, the Korean Air operated 2 routes from Seoul and Busan to Da Nang with a frequency of 21 flights per week. In the peak tourist season in January 2020, the weekly average number of visitors to Da Nang reached 4,842.
Mr. Chung Eui-seock, Chief Representative of Korean Air in Da Nang, said after restarting charter flights, Korean Air plans to fly daily to Da Nang from July 27, 2022.
He remarked Da Nang was an attractive destination for Korean tourists, so the firm expected flights to be at maximum capacity. He added that Korean Air, with 5-star flights, would offer interesting and memorable journeys to Da Nang.
He informed that flight KE9463 will take off in Incheon at 6:40 pm (at local time) and land in Da Nang at 9:25pm on Wednesdays and Saturdays. Meanwhile, flight KE9464 will depart at Da Nang International Airport at 10:50 pm and arrive in Incheon at 5:30 am on the next day (at local time).
Reporting by THU HA - Translating by M.DUNG
.