Viet Nam's first-ever professional rally racing complex set for March opening
Published: March 02, 2016
A Vietnamese multifaceted firm is poised to inaugurate what it claims to be Viet Nam's first-ever professional complex for car rallying and motorcycle racing this month.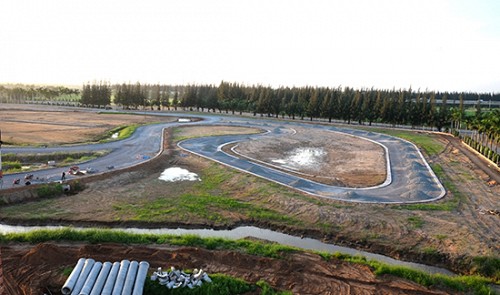 A corner of the HappyLand Circuit is seen in this photo provided by the developer, Khang Thong Group.
Developed by the Khang Thong Group, the HappyLand Circuit includes various race tracks for motorcycle, off-road, drag and rally racing, all meeting international standards.
The racing facility, spanning 139,000 square meters, is part of the HappyLand entertainment area being developed by the company at the southern province of Long An.
Besides the race track, the complex also includes training track for Motorcycle gymkhana and a bicycle ground for kids from five years old and above.
The size of the complex is equal to some 20 FIFA-standard football fields, and 12 different racing types can compete at the facility, capable of hosting 25,000 spectators.
The HappyLand circuit will open to visitors on March 25, before hosting the first races of the Viet Nam Rally Championship on April 29 and May 1.
(Source: Tuoi Tre News)
.