Amazing revival of Da Nang's taekwondo sector
December 23, 2020, 17:24 [GMT+7]
Da Nang's Taekwondo team excellently finished in second place at the National Taekwondo Championship 2020 with a total of 7 gold and 2 silver medals.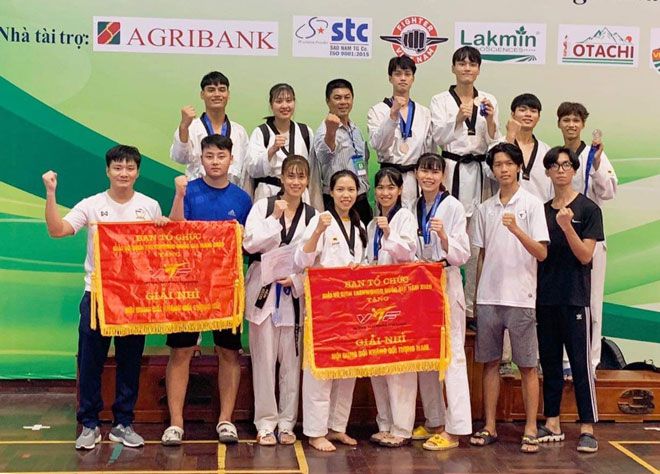 The Da Nang Taekwondo team expressing their joy as finishing second at the National Taekwondo Championship 2020
Beyond great efforts made by local Taekwondo fighters, this impressive result was mainly attributed to the leadership and instruction of Head of the Da Nang Taekwondo team Duong Le Quoc Linh and coach Ha Hien Huy.
With nearly 10 years of experience in leading the city's team of young Taekwondo fighters, coach Ha Hien Huy got approval from leaders of the city's sports sector to revive this kind of sports.
More importantly, this Phu Yen native is famous for his assertiveness and prudence in recruiting athletes, and designing better athletic training programs for his trainees to help them better achieve their goals in their individual sports, as well as for creating a high level of consensus amongst coaching board and athletes.
However, he admitted feeling a lot of pressure as receiving the mission of reviving this kind of sports in the city.
It was a good sign at that time that Da Nang boasts some talented Taekwondo fighters, namely Tran Ngoc Tuan, Truong Thi Nho, Tran Thi Anh Tuyet, Hoang Gia Vinh Thinh and Tran Ngoc Hieu.
And his persistence was paid off, coach Huy has succeeded in training qualified athletes who have gained outstanding achievements in national and international Taekwondo events.
Most surprisingly, female Taekwondo fighter Tran Thi Anh Tuyet claimed a gold medal at the SEA Games 30 held in the Philippines last year.
Currently, local Taekwondo fighters are on busy schedule to prepare for forthcoming Taekwondo events at both home and abroad. Included will be SEA Games 31 to be held in Viet Nam in 2021 and the National Physical Exercise and Sports Festival 2022.
By NGUYEN AN – Translated by M.D
.