New Year celebrations begin in Da Nang, Hoi An
December 21, 2020, 09:24 [GMT+7]
Da Nang will host the 'Da Nang New Year' festival at the Asia Park and street performance on the Han River banksfrom 30 December to 3 January.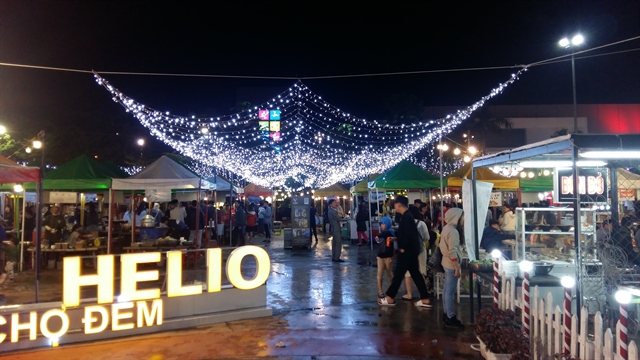 A night market is seen in Phan Dang Luu street in Da Nang. The city will host New Year Festival at Asia Park Square from 30 December to 3 January. — VNS Photo Cong Thanh
The city's tourism authority said a pedicab parade will begin the festival from 4.30pm to 6pm on 30 and 31 December.
Artists will play music while riding on pedicabs during the parade at the Asia Park Square on Phan Dang Luu Street.
Local residents and tourists will receive total 3,000 free tickets for a night cruise on the Han River on 30-31 December by sharing news of the festival and liking the Da Nang New Year Festival Facebook page, according to the tourism authority.
The Rong (Dragon) Bridge will perform spitting fire and water from 9pm every night from 30 December to 3 January.
Local artists will play traditional instruments, pop and rock, flamenco, rap and hip-hop while there will be a flashmob and fashion show on the Hàn River bank at nights on 30 December through 3 January.
Pavilions at cuisine zone of the Asia Park will host a noodle festival from 9pm to 10pm from 30 December -3 January .
Chefs will cook local noodle dishes including 'my quang' (flat rice noodle), Thai noodles, spaghetti, noodles in Chinese, Korean, Singaporean and Indian style, as well as local cakes.
Earlier, a performance by children's choir began the Christmas Lighting Ceremony at Furama Resort Da Nang on 4 December, launching a month of performances and events celebrating the New Year in Da Nang.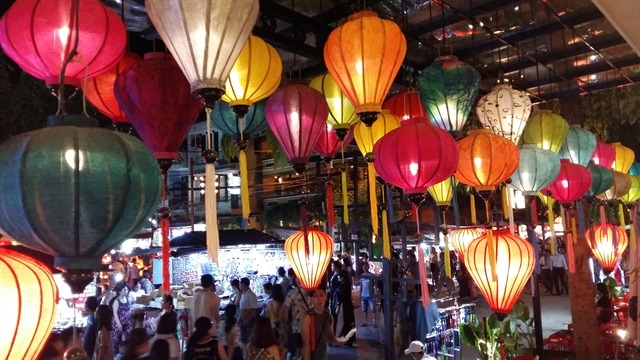 Lanterns will decorate at every house in the Old Quarter of Hoi An city in celebration of the New Year 2021 from December to February. — VNS Photo Cong Thanh
Meanwhile, ancient Hoi An city will open New Year celebrations at An Hoi Sculpture Park, the night market in Nguyen Phuc Chu and flea market in coastal Nguyen Phan Vinh Street in An Bang Beach from 24 December to 1 January.
Lantern decorations will be hung at houses in the Old Quarter from December through February.
A photo exhibition and traditional art performances will be held at outdoor stages and cultural centres in Hoi An.
The night market at Nguyen Phuc Chu Street on the Hoai River will serve traditional dishes at night from 5pm to 10pm on 24-31 December.
Source:VNS
.