Promoting development of boat rowing in Da Nang
July 26, 2022, 18:14 [GMT+7]
Boat rowing is considered to be one of spearhead kinds of sports in Da Nang. Over recent years, the city's boat rowing team have continuously achieved great success in major tournaments, thereby gradually bringing this kind of sports to the forefront.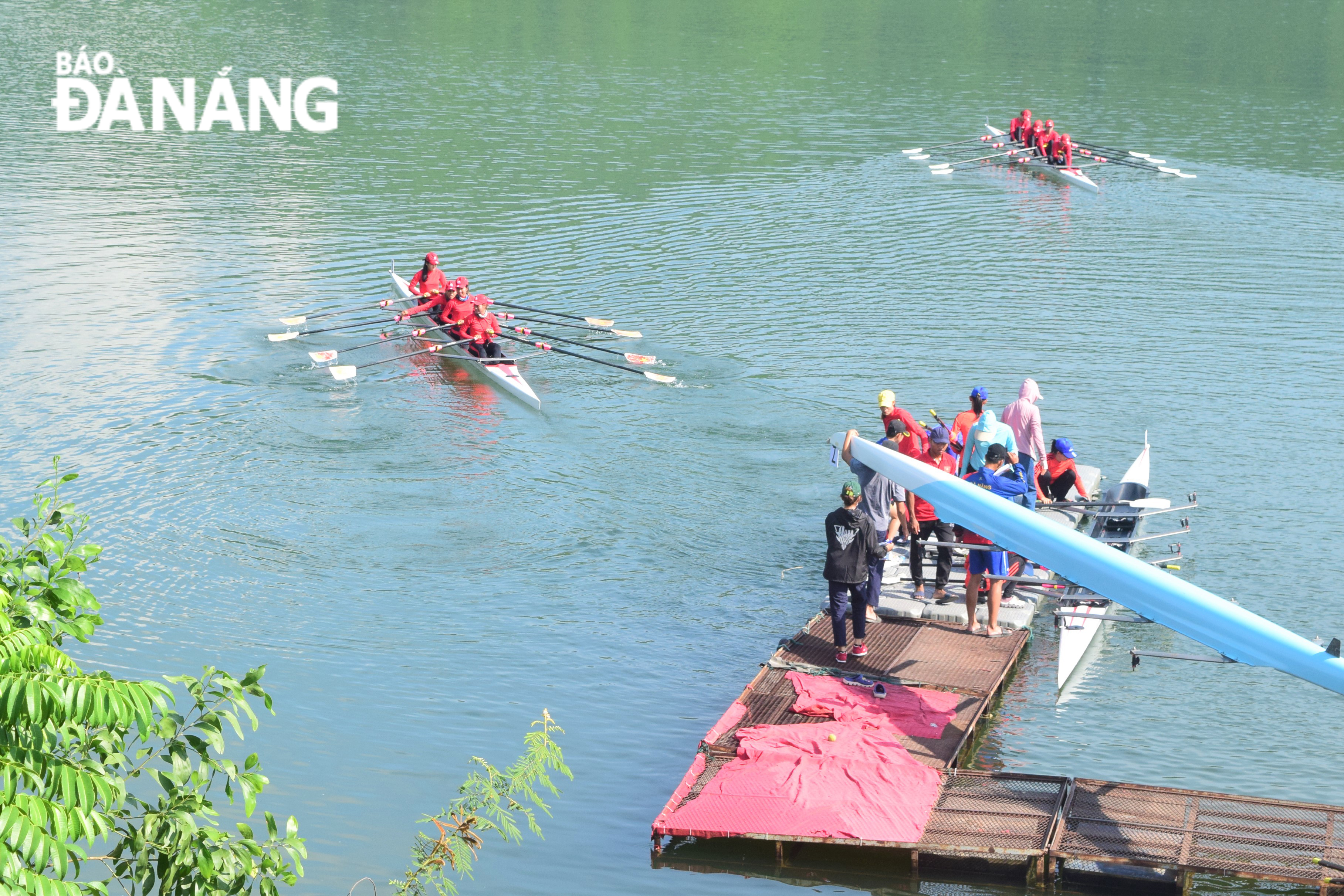 Members of the city's boat rowing team are training hard at the Dong Nghe Lake. Photo: P.N
After the 31st SEA Games, members of the city's boat rowing team have returned to training in anticipation of the 9th National Sports Games and other tournaments in 2022.
Athlete Hien Nam, a member of the city's boat rowing team, revealed that his immediate goal is to win a gold medal at the 9th National Sports Games, and then defend SEA Games gold medal in Cambodia in 2023.
"Currently, I am undergoing canoeing training. To conquer the upcoming tournaments, I and my teammates have to maintain regular practice, and often share experience with each other to develop together" said Hien Nam.
According to Mr. Tong Huu Dung, Head of the boat rowing team under the Da Nang Athlete Training Centre, regular practice is mandatory for boat rowers, and all members of the city's high-performance sports teams as a whole.
He noted that the city's boat rowing team has more than 80 athletes involved in many different events. All of them are given the best conditions in practice and daily living activities. Besides the Dong Nghe Lake, they participate in training at the Whale Park.
According to Mr. Dung, most of the city's boat rowing team members are in the national rowing team, including Pham Thi Hue, Pham Chung, Vo Nhu Sang, Hien Nam, Y Khoer Niê, Tran Thanh Cuong and Nguyen Tuong Duy (rowing), and Vo Duy Thanh and Nguyen Van Tien (kayak).
At the 31st SEA Games, these athletes made great contributions to the achievements of the Da Nang sports delegation in particular and Viet Nam sports delegation in general.
Specifically, athlete Pham Thi Hue won 3 gold medals in the events of heavyweight women's single sculls, and heavyweight double sculls in women's four and women's single.
Athlete Hien Nam grabbed 2 gold medals in Canoeing category in men's C2-1000m and men's C4 -1000m events, whilst athlete Vo Nhu Sang claimed 1 silver in the lightweight men's quadruple sculls event.
Furthermore, athlete Pham Chung took 2 silver medals in lightweight men's double and quadruple sculls events, and athlete Vo Duy Thanh won a bronze medal in the men's kayak four 1,000m event.
Most recently, the city's boat rowing team have regularly facilitated its members to participate in training courses nationwide in order to improve their performances. Currently, they are under training in Hai Phong. They will move to Ha Noi to attend the 2022 National Youth Boat Racing Championship from August 15 – 30.
Moreover, more than 30 other athletes are participating in the Quang Tri Province Traditional Boat Racing Championship 2022.
"The participation of athletes in tournaments and training in Hai Phong is to help them interact and get acquainted with the competition venues and tracks in preparation for the forthcoming 9th National Sports Games" emphasised Mr. Tong Huu Dung.
Mr. Tran Cong Tu, Director of the municipal Sports and Physical Training Centre, acknowledged that Da Nang's boat rowing in recent years has achieved many proud successes, showcasing the local leaders' special interest and investment as well as athletes and coaches' constant efforts.
Recently, the city successfully hosted the National Rowing and Canoeing Championships 2022 for all Clubs Nationwide in 2022.
In an effort to further develop the local boat rowing, in the coming time, the centre will cooperate with some units to host more tournaments in a bid to provide the opportunity for local rowers and canoers to rub shoulders with other athletes nationwide and exchange competition experience.
Reporting by PHI NONG - Translating by M.DUNG
.