Over 70 international golfers registered for BRG Open Golf Championship Da Nang 2022
August 13, 2022, 11:18 [GMT+7]
Addressing a Friday meeting to discuss about preparatory works for the BRG Open Golf Championship Da Nang 2022 slated for late this month, Da Nang People's Committee Vice Chairman Tran Phuoc Son remarked that the tournament not only promotes the city's tourism images but also creates a new playground for Vietnamese golfers to compete with international rivals.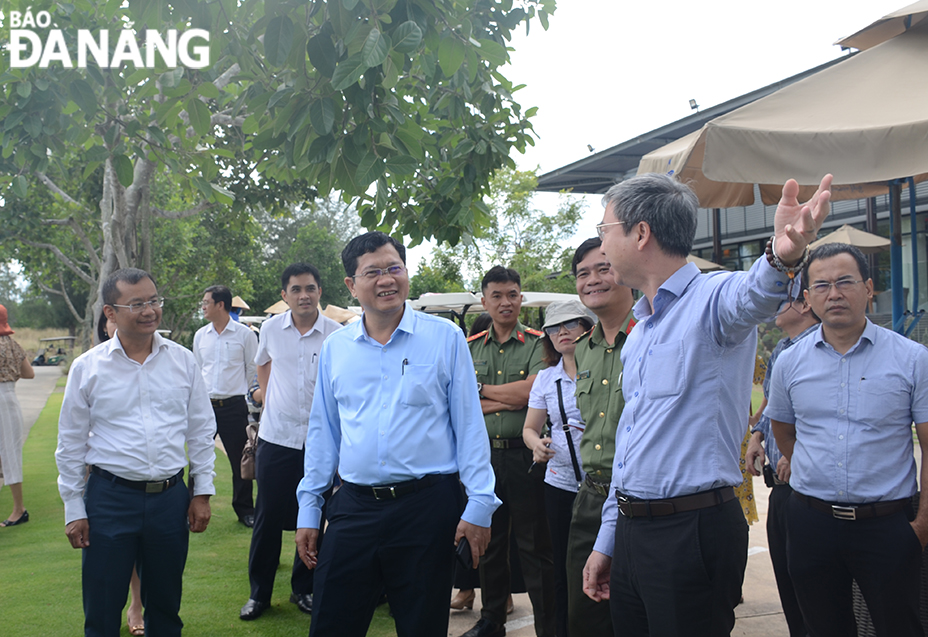 Da Nang People's Committee Vice Chairman Tran Phuoc Son (middle) and representatives of departments, agencies and sectors inspecting the golf course where the tournament will take place. Photo: THU HA
Vice Chairman Son proposed the VGS Event Company, the event organiser, to promote sponsorship activities, ensuring the interests of sponsors in the spirit of the signed agreement.
He asked the BRG Group to actively cooperate with the municipal Department of Tourism and related units to well prepare for logistics and decoration works. The Department of Culture and Sports was directed to work closely with the city's sports and physical centre to ensure the successful organisation of the tournament.
The local Department of Information and Communications was urged to coordinate with other units to advertise the upcoming sports event to international friends.
Importance should be attached to ensuring environmental sanitation, food safety and hygiene, health care, traffic safety and order security, added Mr. Son.
The city leader also underlined a must-do for relevant agencies to conduct marketing campaigns to widely promote the sports event in domestic and international markets.
Up to now, 70 out of the 120 international golfers from such foreign countries as Thailand, Malaysia, the Philippines, South Korea, Japan, the USA, Australia, the UK, and Switzerland have registered for the tournament. The deadline for registration will be August 21. Viet Nam has 22 special slots to participate in the BRG Open Golf Championship Da Nang 2022.
It is known that the VGS Event Company has planned to issue 5,000 tickets, including tickets for invited guests, sponsors and spectators. Communication and promotion activities are being stepped up by the company, whilst advertising billboards about the event are being installed at Da Nang International Airport and roundabouts, and along both banks of the Han River.
In addition to the main tournament, the Da Nang Golf Tourism Festival 2022 will feature an array of exciting events, including an international seminar on golf tourism development, exhibition featuring booths displaying golf equipment, golf experiences, city tours, a food promotion programme, Miss Golf Viet Nam and volunteer activities. The highlight of the Da Nang Golf Tourism Festival is the Asian Development Golf Tournament, also known as the Danang Fantatiscity Championship, which is slated to take place in Da Nang from August 30 - September 2.
Also on the same day, Da Nang People's Committee Vice Chairman Tran Phuoc Son made a field trip to the BRG Danang Golf Resort Golf Course located on Truong Sa Street, Ngu Hanh Son District where the BRG Open Golf Championship Da Nang 2022 will take place.
Reporting by THU HA - Translating by M.DUNG
.