Discover amazing Chess Board Peak on Son Tra Peninsula
May 10, 2018, 10:22 [GMT+7]
Located on the peak of Da Nang's Son Tra Peninsula which is around 700 meters above sea level, the Ban Co Peak (Chess Board Peak) is really an ideal place for visitors to admire the city's stunning panoramic views.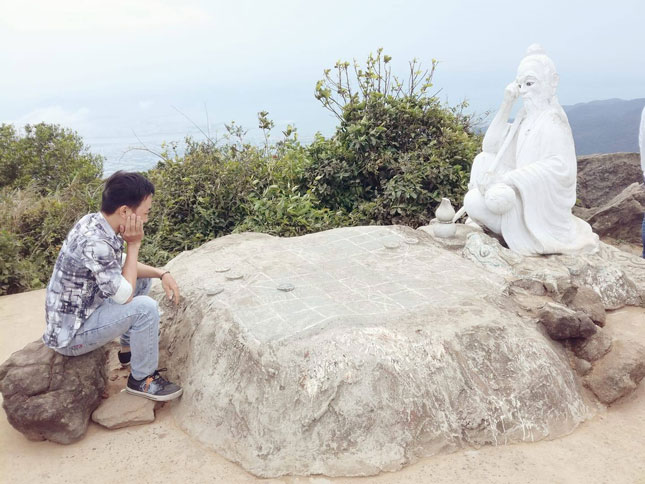 A statue of De Thich deity on the Ban Co Peak
On the way to this venue, visitors can experience riding on winding roads with extensive greenery and beautiful wildflowers along the roads. In addition, riders will be impressed with towering cliffs on one side, and the beautiful blue of sea to the other on some sections of the road.
The higher you go up, the cooler it is. So, it is cooler when you climb to the Ban Co Peak. From here, you can take a deep breath to enjoy fresh scents of green trees and beautiful flowers, and feel the wind on your skin. Then, you need to go along a path full of rocks and take a short climb to the peak
Once you reach the Ban Co Peak, you will easily get a panoramic view of the city from above, including the sparkling Tien Sa Sea under the sun, offshore fishing boats, numerous high-rises and bridges spanning the Han River. Most notably, visitors will see a statue of an old man sitting by a chess board carved on the surface of a large rock.
Legend has it that there were two deities sitting and playing chess on the Son Tra Mountain for many consecutive days but they were still inconclusive. Then one day, one of them lost the game because of being distracted by fairies who flew down the beach to take a bath. Out of control, he kicked the chess board into the sea and came back to Heaven. Therefore, local people had carved a large chess board on the rock and built the statue of a deity named De Thich who sits alone in front of the chess board, thinking carefully about his next moves. The name of the mountain peak 'Ban Co' also came from that legend, and the beach where the fairies took a bath was named Tien Sa.
Many locals and visitors prefer to visit the Peak at sunset and sunrise when the city is quiet, and the nature in the peninsula also is stirred. The Ban Co Peak is an endless source of inspiration for both professional and amateur photographers to capture impressive scenes of the city from above.
.