City leader welcomes Cambodian high ranking government officials
October 17, 2019, 11:18 [GMT+7]
On Wednesday, Da Nang People's Committee Vice Chairman Dang Viet Dung played host to Cambodian high ranking government officials from Ministry of National Assembly-Senate Relations and Inspection, led by Deputy Prime Minister Men Sam An.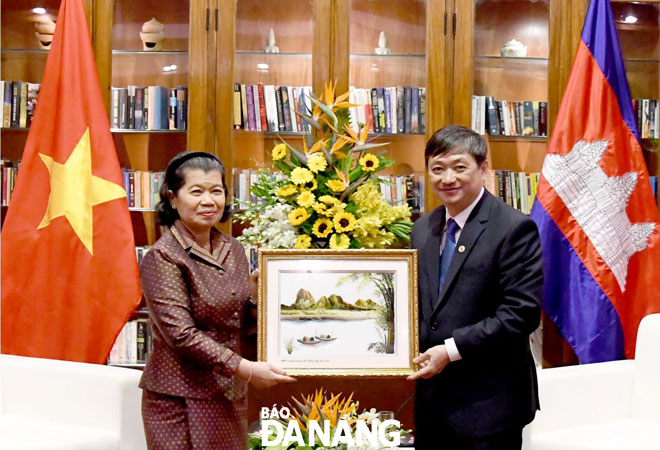 Vice Chairman Dung (right) presenting a momento to Cambodian Deputy Prime Minister Men Sam An
Deputy Prime Minister Men Sam An said she was very impressed by the city's dynamic growth over recent years, especially in the aspects of urban infrastructure and the building of a green, clean, and beautiful city.
The Cambodian leader took the opportunity to thank Da Nang for granting scholarships to some poor students from her country, and for assisting the Regiment No 42 of the Cambodian Military Zone to build the Operator House and purchase some office equipment.
Ms Men Sam An affirmed Cambodia was determined to preserve and promote the good traditional friendship with Viet Nam, and not to allow hostile forces to spread distorted information about the truth of Vietnamese volunteer soldiers helping the Cambodian people overthrow the Pol Pot-Ieng Sary genocidal regime.
In reply, Vice Chairman Dung briefed his Cambodian guest on the city's socio-economic development strategies in the coming time.
Mr Dung said the first non-stop flight between Phnom Penh and Da Nang is set to take off on 27 October, which would open up more opportunities in economic and tourism cooperation between Da Nang and Cambodian localities.
He also expressed his hope that the Cambodian leader would continue her efforts to foster the bilateral cooperative ties with Da Nang in the years to come.
.