Routes Asia brings good chance for Da Nang to accelerate route development
June 06, 2022, 11:17 [GMT+7]
During his reception on Sunday afternoon for some representatives from the Informa Routes Company, Da Nang People's Committee Vice Chairman Tran Phuoc Son thanked the company for choosing Da Nang as the host of the 2022 Asia Route Development Forum (Routes Asia).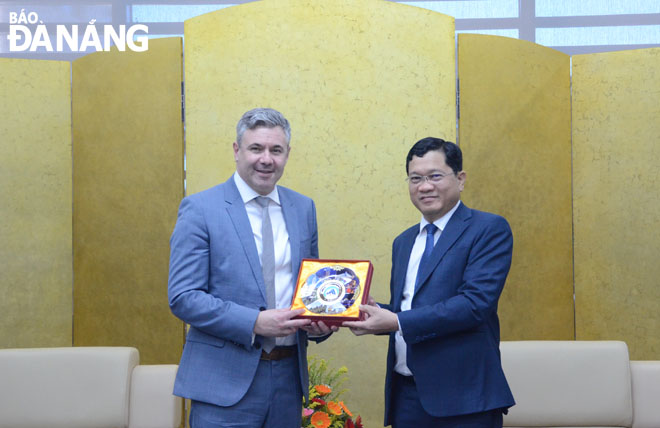 Vice Chairman of the Da Nang People's Committee Tran Phuoc Son (right) warmly receiving a Inform Routes representative. Photo: THU HA.
Vice Chairman Son remarked this was a new event not only for Da Nang but also for Viet Nam, especially in the context of economic recovery after 2 years of being affected by COVID-19. He underlined the importance of the forum in creating favourable conditions for Da Nang to resume previous int'l air services and open new ones.
Chosen as the host of Routes Asia 2022, the city leader said that the city has mobilised the participation and coordination of relevant departments, agencies and sectors to prepare facilities and organise support activities on the sideline of the forum in a bid to create a series of unique activities for the forum and ensure the success of this event.
Mr. Son took the opportunity to ask for support from the Informa Routes company to facilitate businesses, tourism associations and airports in Da Nang to cooperate with airlines and tourism firms worldwide.
"We also expect that after the forum, many bigger events such as the World Routes Development Forum will be held in Da Nang", added Mr.Son.
Mr. Steven Mall, Brand Director of Routes said, through this event, the Informa Routes company brought the aviation community to Da Nang. Routes is a prestigious event of airline decision makers from the region and beyond.
"We have a lot of experts in the aviation field. Routes Asia is really a golden opportunity for Da Nang to accelerate route development and increase air connectivity. It is also considered as the driving force for the city's progress in the future. Through upcoming activities, hopefully many meetings and relationships will be established, thereby creating great opportunities for attendees to better understand the potential and strengths of Da Nang" emphasised Mr. Steven Mall.
Reporting by THU HA - Translating by M.DUNG
.