Meaningful and humanitarian programmes for children in Da Nang
June 01, 2022, 09:35 [GMT+7]
Over the past time, authorities, associations and mass organisations across Da Nang have been carrying out many meaningful and humanitarian programmes and activities to help orphans to ease their pain and have a solid fulcrum to overcome adversity and move to the future.
According to statistics released by the Da Nang Department of Labour, War Invalids and Social Affairs and the municipal Women's Union (WU) at all levels, there are currently 1,518 orphans in Da Nang due to the impact of COVID-19 or other causes.
In order to create conditions for the orphans to develop comprehensively in the family and community environment, the municipal WU and its chapters at grassroots level have implemented the Central Viet Nam Women's Union-launched 'Godmother' programme.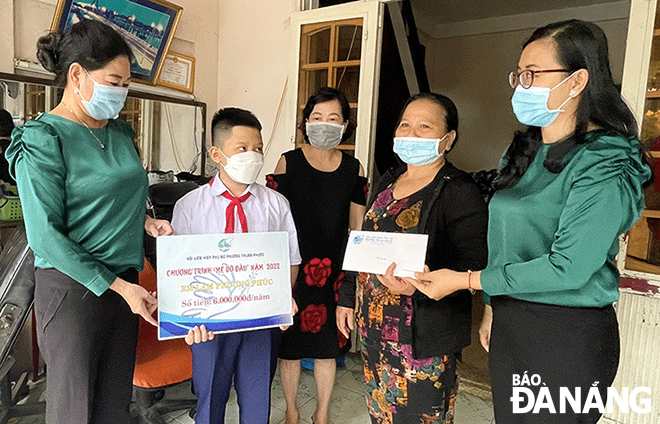 The Thuan Phuoc Chapter of the Da Nang Women's Union in Hai Chau District giving support gift under the 'Godmother' programme to Lam Phuong Phuc. (Photo courtesy of the character)
Living in the love of the community
Sharing about the meaningful programme, Mrs. Nguyen Ha Thu, Head of the Family, Society and Economy Department of the Da Nang WU, highlighted the significance of the programme in showing high sense of responsibility of the WU's officials and members in solving social problems. In addition, the programme also contributes to accompaning the authorities at all levels to help, care for and nurture orphans so that no one is left behind.
Thanks to the active advocacy of women's unions at all levels, in the first phase, 121 children have enjoyed benefits from the "Godmother" programme. 15 of them have been children who have become orphans due to COVID-19.
In the second phase of the programme, 88 children, including 3 orphans as a result of COVID-19, have received active support from generous organisations and individuals.
Each child receives a monthly allowance of VND500,000, and is donated learning tools, bicycles, etc.
Under the programme, many children have been cared for and nurtured at home, such as being provided with study tutoring and guidance on health care skills, and life skills.
In addition, depending on the financial resources of their 'godmothers', adopted children are supported with necessities, living expenses, study expenses, and medical examination and treatment costs, in accordance with their needs and circumstances.
In the coming time, the municipal WU and its chapters at all levels will develop a network to manage the programme and review disadvantaged children to provide timely support, according to Mrs. Nguyen Ha Thu.
At the same time, orphans with difficult circumstances will be facilitated to access the programme.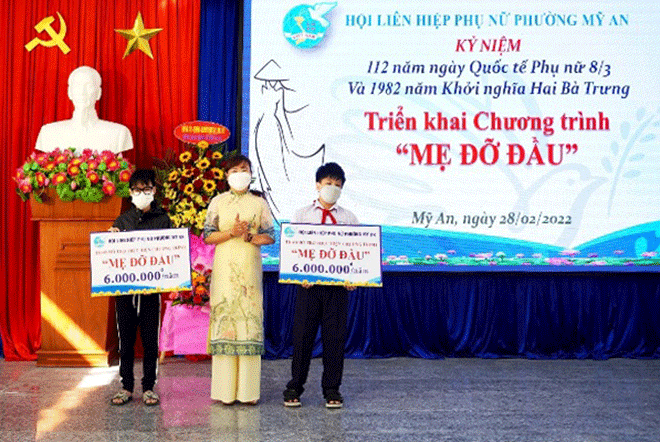 The My An Ward Chapter of the Da Nang Women's Union in Ngu Hanh Son District giving support to children sponsored by the Da Nang Association of Charities and Child Protection. (Photo provided by the character).
Enhancing social responsibility
In an effort to create a healthy playground for children on the occasion of the Action Month for Children 2022 in June, the Da Nang Association of Charities and Child Protection partnered with the municipal Youth Union to organise the Childhood Festival 2022 for children with special circumstances in the city on May 29.
The purpose of the event was to convey a message of appealing for joint efforts to protect children, and speak up to prevent and combat child abuse and violence.
The festival featured a wide range of attractive activities, including presentations on child abuse prevention and combating, drawing and letter writing competitions, a 'Ringing the golden bell' contest, camping, a publicity festival, flashmob performances, and folk games.
During the event, about 300 children under the age of 16 with special circumstances were presented with gifts and scholarships from the association's funds and generous sponsors.
Also, the festival's organisers awarded 100 scholarships, valued at VND1 million each, to disadvantaged children in the city.
Besides, 10 gifts were given to orphans under the 'Godmother' programme. Accordingly, each orphan will receive a monthly allowance of VND500,000 between 2022 and 2027.
"These practical activities aim to raise public awareness about the care, protection and education of young people and children, especially ensuring children's rights and protecting children against drowning, accidents, abuse and violence", emphasised Mrs. Nguyen Thi Anh Thao, Deputy Secretary of the municipal Youth Union.
The Da Nang Women's Union plans to organise a number of funny and exciting games to mark the International Day Children (June 1). Included will be blowing soap bubbles, smashing the pot blindfold, pretending to be statues, hopscotch, sack jumping, collective singing and dancing, and team building games.
These activities create an atmosphere of joy, excitement and spiritual motivation for children to help them exchange and learn, improve knowledge and life skills, thereby becoming bolder and more confident in communication and life.
Reporting by DOAN HAO LUONG - Translating by M.DUNG
.