Da Nang boosts Covid-19 containment efforts
August 21, 2020, 12:09 [GMT+7]
Da Nang has gradually gained the control of the Covid-19 pandemic over recent days as its hospitalisations for Covid-19 are showing a downward trend. Despite that positive sign, the Da Nang government should intensify its efforts to contain the deadly coronavirus. High precaution against this unpredictable virus should be kept in place to avoid any public negligence, with a focus on maintaining the practice of infection prevention and control measures imposed by the national and municipal governments.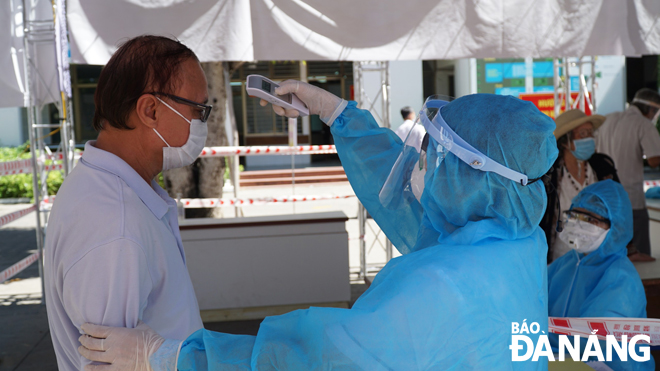 The C Hospital started welcoming patients on Thursday for checkups and treatment after reopening its doors
These statements were released on Thursday by both Deputy Minister of Health Nguyen Truong Son, who is currently leading a ministerial special task force to help Da Nang tackle Covid-19, and Assoc. Prof. Dr. Tran Nhu Duong, the Deputy Director of the National Institute of Hygiene and Epidemiology cum Head of the Ministry of Health-assigned Covid-19 Supervision Team in the city.
In particular, Assoc. Prof. Dr. Duong warned that even if new coronavirus infections may drop to zero, that does not mean the deadly virus disappears completely in the community.  Actually, the number of possible cases of community transmission is forecast to be recorded in Da Nang.
Therefore, it is essential to maintain the city's contact tracing and scaling up its testing efforts, especially detecting and taking swab samples for coronavirus testing from anyone, even healthily able ones, who show such symptoms fever, cough, sore throat, flu and common upper respiratory tract infection in the community. 
In particular, as long as a F0 (the infected case) is reported, the city's testing programmes will be rapidly scaled up in order to provide a test for those living surrounding areas.
Besides, Assoc. Prof. Dr. Duong highlighted the significance of strongly strengthening the operation of all-levelled public health monitoring systems in order to ensure the early detection of the virus in the community, thereby helping prevent further spread. 
Da Nang People's Committee Chairman Huynh Duc Tho (3rd, left) presenting a momento to members of the Ministry of Health-dispatched Covid-19 special task force on Thursday before their Ha Noi comeback
After nearly a month, the city's health sector's staff conducted a total of around 90,000 tests, and detected 356 cases positive for the novel coronavirus.
Till date, 4 public medical establishments in Da Nang have reopened to the public after compulsory two-week lockdown over their links to the Covid-19 outbreak.  They are the C Hospital, the Da Nang Orthopedic and Rehabilitation Hospital, Hai Chau General Hospital and Cam Le District Medical Centre.
The lockdown was lifted after all patients, their caretakers and medical staff in the aforementioned venues had been tested negative for many times, in line with the Vietnamese Ministry of Health guidelines. 
Meanwhile, the Da Nang General Hospital, the city's largest medical establishment, is making all necessary preparations for its soon-to-be-conducted disinfection so that it can come back on stream as soon as possible.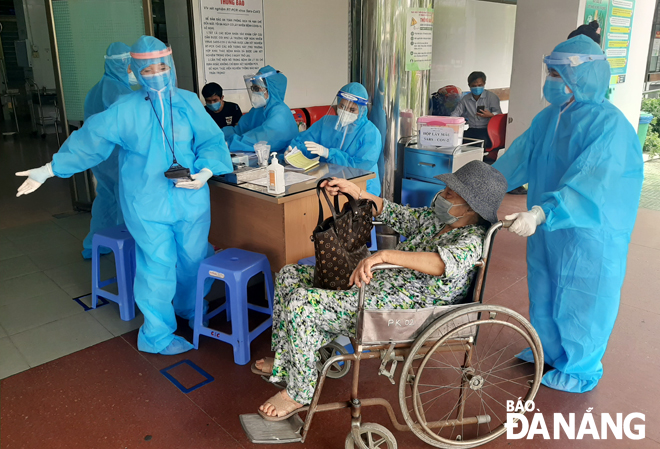 Despite the lockdown being lifted, strict pandemic prevention measures remain in place in the C Hospital to prevent the virus from rebounding
Following recent approval from Da Nang's leaders, financial aids from the national and municipal budgets will continue going to those financially struggling in the face of the coronavirsus-sparked economic difficulties.
The recipients are social allowance beneficiaries, those who made meritorious contributions to the nation's revolutionary cause, and families living below and near the city's poverty thresholds, those who have their labour contracts suspended, freelancers, employees having their labour contracts terminated but are ineligible for unemployment insurance, and small family-run businesses which suffered virus-triggered shutdown.
By NGOC PHU – Translated by A.T
.