Da Nang's C Hospital permitted to conduct Covid-19 testing
August 20, 2020, 17:39 [GMT+7]
The Da Nang-based C Hospital started operating its own Real-time polymerase chain reaction (RT-PCR)-based Covid-19 testing system on Thursday morning following a recent permission from the Ministry of Health.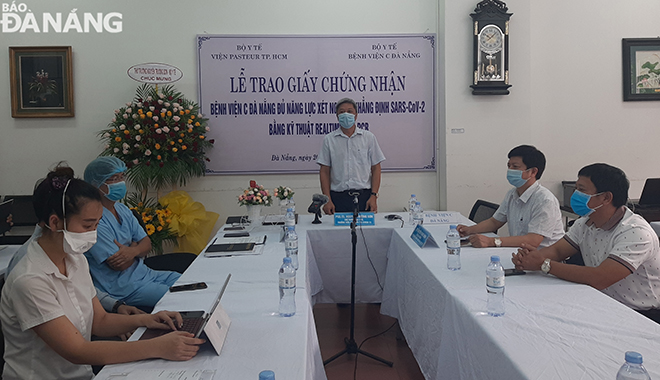 Deputy Minister of Health Nguyen Truong Son affirmed the fact that Hospital C is capable of conducting Covid-19 tests is of great significance in supporting the city's efforts to tackle Covid-19.
According to Deputy Minister of Health Nguyen Truong Son, the licencing for this medical establishment will help the city increase Covid-19 testing capacity, as well as find it easier to scale up the city's testing programmes in a bid to stop the spread of infection in the community.
Currently, two Covid-19 testing methods are being applied in Viet Nam, namely the use of Realtime-PCR for virus detection and Covid-19 antibody testing, which is a blood test that can detect if a person has antibodies to SARS-CoV-2.
Doctor Nguyen Trong Thien, the C Hospital's Director, said this freshly-operated system will increase its daily testing capacity to more than 200 samples in the coming weeks. Laboratory technicians from the HCM City Pasteur Institute has supported the C Hospital to conduct the only 2-day installation of this system.
After Da Nang saw a second wave of Covid-19 infections in late July, 8 public and private medical facilities have been allowed to conduct coronavirus testing till date. They are the Da Nang Centre for Disease Control, the Da Nang General Hospital, the Da Nang Lung Hospital, the 199 Hospital under the Ministry of Public Security, the C17 Military Hospital under the Military Zone 5 High Command, the Vinmec Da Nang International Hospital, the Thien Nhan Centre for High-tech Medical Diagnostic, and the C Hospital, with a combine total testing capacity of over 15,000 swab samples every day.
Positive test results reported by these testing facilities are required to send to the Da Nang Centre for Disease Control for confirmation.
By KHANH HOA – Translated by A.T
.