Stronger enforcement of stay-at-home order needed, Da Nang Party chief says
August 03, 2021, 15:51 [GMT+7]
Da Nang Party Committee Secretary Nguyen Van Quang on Monday afternoon said that stronger enforcement of the city's stay-at-home order is needed to tackle rising cases fueled by delta variant. He urged coronavirus taskforce to take tougher enforcement measures targeting breaches of the city's travel restrictions.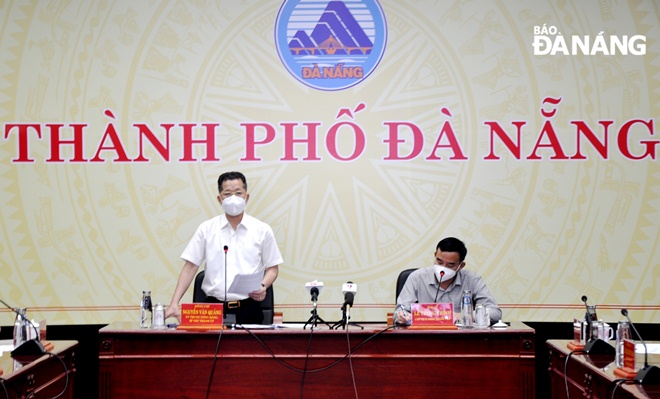 Secretary Quang (left) delivered his instructions at the municipal Steering Committee for COVID-19 Prevention and Control's meeting on Monday afternoon. Photo: LE HUNG
The city Party Chief asked the taskforce to help local residents understand their obligations under public health orders, and continue to educate the public to not leave home without a valid excuse.
Mr Quang stressed the need for the staff at checkpoints to use properly face shields, gloves and face masks to help them protect from COVID-19. The focus should be taking action against those who are found breaking the city's stay-at-home order, and issuing strictest penalties for them, Secretary Quang emphasized.
Mr Quang directed the taskforce to increase checks on travel permits of people after they show proof of their reason for leaving home from today, August 3. The taskforce must handle improper permits and revoke them, he noted.
Municipal People's Committee Chairman Le Trung Chinh asked the Department of Planning and Investment to check the list of eligible businesses for remaining open during the city's social distancing period, and take action to make sure that eligible businesses are issuing properly travel permits for their employees in accordance with the municipal government's guidance or face hash penalties for non-compliance.
Chairman Chinh directed police officers to deploy across the city and increase their patrols on roads to enforce regulations in response to breaches of the city's travel restrictions during social distancing period.
The city government leader instructed the health agency to conduct COVID-19 tests for staff at checkpoints every three days. Mr Chinh also called for continued efforts to ramp up contact tracing and testing of all COVID-19 contacts in a bid to break the chains of transmission in the city.
Reporting by LE HUNG – translating by H.L
.