Da Nang leader asks for increased vaccination coverage rates, efficient and cost-effective COVID-19 testing
October 14, 2021, 13:45 [GMT+7]
Da Nang People's Committee Vice Chairwoman Ngo Thi Kim Yen on Wednesday afternoon, October 13, highlighted the need to accelerate the rollout of COVID-19 vaccinations, and conduct COVID-19 testing in an efficient and economical manner with high priority given to the higher-risk groups.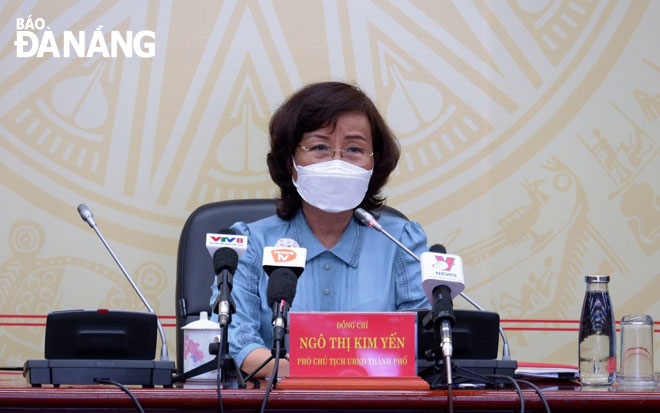 Vice Chairwoman Yen chaired the regular meeting of the municipal Steering Committee for COVID-19 Prevention and Control on the afternoon of October 13. Photo: PHAN CHUNG
The health agency was asked to speed up vaccinations in order to make sure that all over-18s in Da Nang receive at least one dose of a coronavirus vaccine. In addition, the focus must be on launching mobile vaccination program to reach all people aged 65 or older, pregnant women and workers across Da Nang, Mrs Yen emphasized.
Vice Chairwoman Yen also called on the health agency to continue to launch mass testing campaign, the so-called "One door-one test", in an efficient and cost effective manner. The heed must be paid on rolling out such testing program across the city to reach 50% of the city's total households with high priority given to those in high-risk occupations as screening program aims to assess the risk of COVID-19 in the city to help identify appropriate measures to be adopted in the new normal amid COVID-19, Mrs Yen remarked.
Arrivals from other parts of the country, students and teachers returning to Da Nang from other localities, those who often go out to work or attend events, along with people at greater risk of exposure to COVID-19 should take top priority for coronavirus testing, Mrs Yen suggested.
The taskforce were asked to enhance surveillance of people who are travelling between Da Nang and Quang Nam, and require these people to give their accurate and true health information to staff at checkpoints at entry/exit points in order to support contact tracing efforts after COVID-19 cases are identified.
Da Nang has recorded no new community cases of COVID-19 for 13 straight days. Today, October 14, the final round of COVID-19 testing will be rolled out in the only one locked down area located in An Khe Ward, Thanh Khe District, in Da Nang. If tests on residents in this area come back negative for COVID-19, lockdown order will be lifted, thereby helping Da Nang successfully fend off COVID-19.
31 additional COVID-19 patients were discharged from the Da Nang Lung Hospital on Wednesday, October 13. There are just 19 remaining active cases of COVID-19, including 2 requiring critical care, that are being treated in the hospital.
Currently, the Lung Hospital is the only healthcare facility across Da Nang where COVID-19 patients are being treated. However, the health agency is well prepared to respond to any surges of COVID-19.
Reporting by PHAN CHUNG – Translating by H.L
.